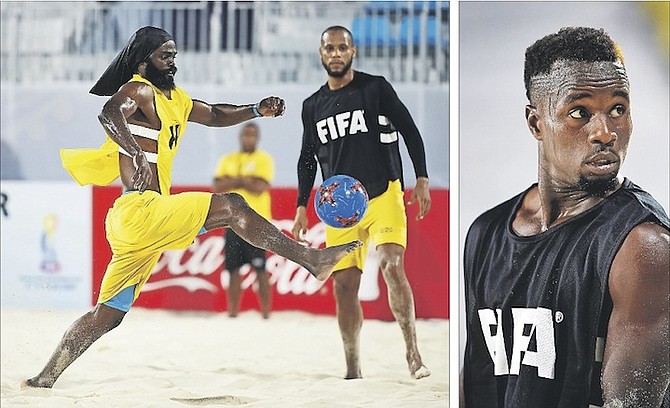 BEACH SOCCER WORLD CUP AT A GLANCE
(World ranking)
Group A
Bahamas (48)
Switzerland (6)
Ecuador (21)
Senegal (17)
Group B
Nigeria (24)
Italy (4)
Iran (5)
Mexico (12)
Group C
United Arab Emirates (10)
Paraguay (9)
Portugal (1)
Panama (28)
Group D
Brazil (3)
Tahiti (7)
Japan (8)
Poland (15)
Fixtures
Group phase
Thursday April 27
3.30pm: Group B: Iran v Mexico
5pm: Group A: Ecuador v Senegal
6.30pm: Group B: Nigeria v Italy
8pm: Group A: Bahamas v Switzerland
Friday April 28
3.30pm: Group D: Japan v Poland
5pm: Group C: Portugal v Panama
6.30pm: Group D: Brazil v Tahiti
8pm: Group C: United Arab Emirates v
Paraguay
Saturday April 29
3.30pm: Group B: Italy v Iran
5pm: Group A: Switzerland v Ecuador
6.30pm: Group B: Mexico v Nigeria
8pm: Group A: Senegal v Bahamas
Sunday April 30
3.30pm: Group D: Tahiti v Japan
5pm: Group C: Paraguay v Portugal
6.30pm: Group D: Poland v Brazil
8pm: Group C: Panama v
United Arab Emirates
Monday May 1
3.30pm: Group B: Italy v Mexico
5pm: Group A: Switzerland v Senegal
6.30pm: Group B: Nigeria v Iran
8pm: Group A: Bahamas v Ecuador
Tuesday May 2
3.30pm: Group D: Tahiti v Poland
5pm: Group C: Paraguay v Panama
6.30pm: Group D: Brazil v Japan
8pm: Group C: United Arab Emirates
v Portugal
Win - 3 points
Win after extra time - 2 points
Win on penalties - 1 point
Top two teams in each group qualify
for knockout stages
Thursday May 4
Quarter-finals
3.30pm: Group C winner v Group D runner-up
5pm: Group D winner v Group C runner-up
6.30pm: Group A winner v Group B runner-up
8pm: Group B winner v Group A runner-up
Saturday May 6
Semi-finals
3pm: Winner quarter-final 1 v winner quarter-final 3
4.30pm: Winner quarter-final 2 v winner quarter-final 4
Sunday May 7
3pm: Third place match
4.30pm: Final
By RENALDO DORSETT
Sports Reporter
rdorsett@tribunemedia.net
The FIFA Beach Soccer World Cup 2017 is underway and Team Bahamas is set to face off against a familiar opponent in the opening game of the group stage. 
Bahamas, ranked at No. 44 in the world, is all set to face Switzerland, who is pegged at No.6, 8pm tonight at the National Beach Soccer Stadium at Malcolm Park as the ninth edition of the BSWC gets underway.
It will be the Bahamas' debut in the tournament against a team they have trained with and played against on numerous occasions in recent years.
Bahamian forward Lesly St Fleur said the relationship between the teams should make for an interesting, well-played match tonight.
"We've been there, they came here, we've played multiple games with them, we've trained together, they know us, we know them, we just have to go out there and give it our all," he said. "We just have to play to the best of our ability at this point and I'm sure both teams will do that."
St Fleur has become a household name locally since his impressive performance at the CONCACAF Championships and has seen his profile increase with endorsements and pictures on promotional billboards for the event. "I feel good as a player for the Bahamas national team to the poster boy, I guess you can call it, of an event like this, it's never happened before so it's always good to be the first and I'm happy I was chosen," he said.
"You don't have too many chances at a World Cup, it doesn't get much bigger than this, so you have to go out there and play to the best of your ability and help come out victorious. We want to come out of our group stage, head to the quarter-finals and take it from there."
St Fleur appealed for fan support to continue the momentum the sport has gathered since the CONCACAF Championships.
"The fans are so supportive, they have to come out and keep representing," he said, "All I will say is come out and be early, this is the biggest stage, and everyone's eyes are on us."
Gates open everyday at 2:30pm. General Admission is free. The competition ends on May 7.
Team captain, Gavin Christie, echoed St. Fleur's sentiments on the familiarity producing a well-played matchup.
"We know Switzerland very well," he said, "We have trained with them before, played them before. They're a very strong team, very technical team and a team not to be taken lightly, but we have to go out there, play our game, play to the best of our ability and hopefully come out with the victory."
After months of preparation, Christie said the team is intent on proving that they belong on the stage with the top teams in the world.
"The team is elated, it's excited, so we're ready to represent team Bahamas and represent the country Thursday night.  I just have to keep the guys encouraged. Every game at this level is a tough game, no matter who you play, so to us it doesn't who the opponent is we have to go out there, play strong and play to win. For us, we're not just happy to be here, we want to compete, so for us our goal is to take it one game at a time, win the first game and once we do that move on to the next and go as far as we can go. We have been training long and hard and waiting for this time. It's a tall order, a lot of strong teams, a lot of competition but we're eager to prove the Bahamas can play at this level."
In preparing for the competition, the hosts travelled to Europe, where, among other things, they spent several weeks with the Switzerland team and Switzerland's Angelo Schirinzi has led previous editions of the Bahamian national team.
When the draw was announced, Schirinzi said he's very happy to play the first match of the tournament against the Bahamas as the host team.
"We know this team very well. We are very good friends," he said. "They has two months in Switzerland and so I'm very happy to play against the host team. It's a great honor for us to play in this spectacular stadium.
Schirinzi's team has impressed since finishing runners-up at the FIFA Beach Soccer World Cup Dubai 2009. Known for their cultured brand of football, the Swiss have become one of the powerhouses of European beach football and have proved with their style of play and performances that they can take on anyone in the world.
Drawn to play in the respective groups are the following:
Group A – Bahamas, Switzerland, Ecuador, Senegal
Group B – Nigeria, Italy, Iran and Mexico, runners-up at the CONCACAF Championships.
Group C – United Arab Emarites, Paraguay, Portugal (defending champions) and Panama (the champions of CONCACAF).
The Bahamas will play against Senegal on Saturday, April 29 and Ecuador on Monday, May 1. The first and second place finishers from each group will advance to the quarter-finals, which will take place on Thursday, May 4.