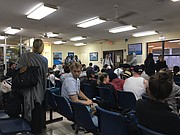 The Fyre Festival organisers showed great disrespect in clashing with the beloved and traditional regatta in Exuma, Robert Dupuch Carron says
Since the wee hours of Friday morning, Bahamians from all walks of life have been venting their anger at the astounding level of disrespect displayed by the shambolic organisation and incompetence displayed by the Fyre Festival organisers, all whilst left scratching their heads in disbelief that our Ministry of Tourism would aid and abet such efforts during Exuma Regatta week.
If reports from those who met with the Fyre Festival folks are to be believed, the organisers were warned their schedule was far too ambitious and that they lacked the necessary experience required to overcome the logistical challenges of executing an event on such a remote island as Norman's Cay- the beautiful former hideaway of notorious Colombian Cocaine kingpin Carlos 'Joe' Lehder.
In addition co-pronoter Billy McFarland was strongly recommended to enlist the talents of Bahamians who had expertise in pulling off similar sized international events like Jamzfest, P Diddy, Junkanoo Carnival, Lady Gaga and Beres Hammond.
While the Fyre Festival chose to ignore such sound advice, a gaggle of genetically-blessed, bikini-clad models - Alessandra Ambrosio, Bella Hadid, Hailey Baldwin, Emily Ratajkowski, Elsa Hosk, and Paulina Vega - shamelessly promoted the #fyrefestival coming to a Bahamian private island called Fyre Cay (real name Norman's Cay) to their legions of fans and social media followers worldwide.
They informed them that the festival would be "packed with music, culture, art, food, and more than $1 million in real treasure and jewels hidden on the island" with tickets ranging from a basic $450 to a mind boggling $250,000 for a VIP Experience. Sadly this utopia ended up a far cry from the truth according to every report we have obtained.
Instead of rescheduling the event, the Fyre Festival organisers decided to switch from tiny Norman's Cay to George Town, situated on much larger Great Exuma.
Like many a doomed ship, these foreign organisers took the ill- advised decision to ignore the dire warnings from many Bahamians and instead set sail on a course which would invariably place themselves on a collision course with the Exuma Regatta and the Bahamian populace.
Sadly the Fyre Festival failed to appreciate the historic significance of the Exuma Regatta Week.
If the Fyre Festival felt overwhelmed by the logistical problems it was experiencing on Norman's Cay, these matters would look like child's play in comparison to the nightmare that was about to explode on Great Exuma given that all hotel rooms, buses, taxis and majority of the rental houses had been booked years in advance for the famous George Town Regatta.
In desperation the Fyre Festival organisers are reported to have inquired if the Exuma Regatta could be rescheduled, lending credence to what Piers Morgan recently described as a US culture of 'rich, publicity craving, materialistic, talentless, self absorbed, social media fanatics' who arrogantly believe they can do as they please.
As if that is not enough, the ensuing fiasco shows what happens when you waltz into a sovereign nation - demanding that your wishes be catered to - simply because you believe you have a few dollars in your pocket or a trust fund.
The ensuing media circus and ire surrounding the Fyre Festival ended up being best described as a "complete train wreck" by festival goers.
While paying guests were told they could expect to stay in 'modern, eco-friendly, geodesic domes' the super-rich had the option of upgrading to hire yachts for more than $100,000 says the Daily Mail of London.
But those who expected to be pampered with luxurious VIP service likened the accommodations to disaster zone relief tents, where they had to search in the dark for their luggage, towels and toilet paper for the Porter-a-Pots.
The British Broadcasting Corporation (BBC) described the festival in glowing terms. 'Instead of $250,000 luxury oceanfront accommodations, 'pop up' five star culinary experiences, people found shelter in half built tent cities alongside feral dogs, locked up in the international departure lounge of Exuma Airport or 'luxury food court' nothing more than people sitting on folding chairs.
Adding injury to insult, the same Z list celebrities whose loyal followers and fans were not given advance notice of "kinks in the festival" were now left stranded - being fed slabs of cheese on sad white bread while the promised recording artists and security failed to appear, added the BBC.
Instead they shamelessly posted photos of themselves lounging by the pool of top Miami South Beach hotels or showcasing new scantily clad outfits, instead of heading to Exuma to assist.
For a government whose manifesto was putting Bahamians first it is unfathomable that the Ministry of Tourism did not have the foresight to step in and prevent such a colossal disconnect, avoiding the ensuing global public relations nightmare.
Clearly the promoters of the Fyre Festival seemed oblivious as to how offensive their conduct would be viewed by the Bahamian populace and how they had now "yucked up our vexation".

In the end, the vast majority of Exumians have expressed ire that the festival was attempting to usurp their beloved Regatta by directly competing for the visiting tourists and locals with scantily clad wannabe models, NFL stars and recording acts.
Lets put this into perspective. Imagine for a minute if thousands of Bahamians in Junkanoo costumes, with cowbells, goat skin drums, Bacardi, Heneiken, Kalik and Sands Beer in tow, descended upon Palm Springs demanding all hotel rooms, guest houses, taxi, buses and RV parks - which had already been booked in advance - informing the citizens that we ain't checking for Coachella this year we "Jammin' Island Style"?
Clearly the Minister of Tourism needs to provide answers to the nation as to how such a matter was allowed to develop without anyone in his Ministry having the foresight to say "Hold on fellas! Love the concept but we have an issue with the dates?"
The sad reality is our nation is once again left to pick up the pieces with a backhanded apology from the Fyre Festival and some lame future promise of compensation.
If Ja Rule wanted to show some real testicular fortitude we would be delighted to welcome him back next year on his own and assist him in partnering with the right individuals to successfully execute what could be such a wonderful concept for our Bahamaland.
• Robert Dupuch Carron is president of The Tribune Media Group. Comments and responses to insight@tribunemedia.net