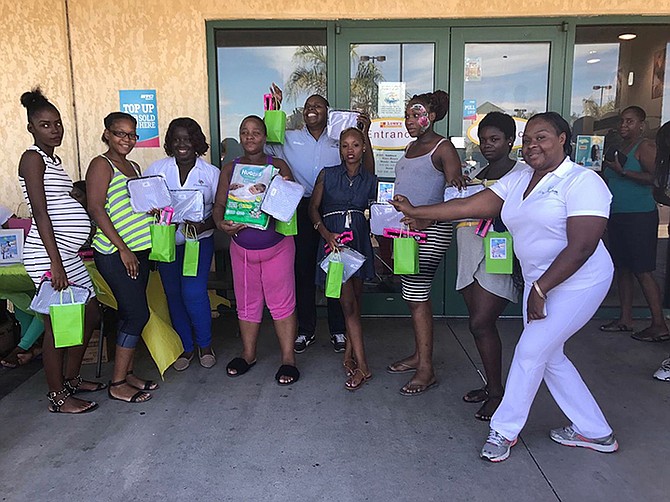 By JEFFARAH GIBSON
Tribune Features Writer
jgibson@tribunemedia.net
SUMMER is said to be one of the best times to conceive, since by the time expectant mothers reach their second and third trimesters, they will have beaten the heat and can prepare to "babymoon" before the birth next Spring.
However, for those already sporting baby bumps, this time of year is no picnic.
But even with the high temperatures there are ways to handle being pregnant during the summer months, according to local baby expert Jasadette Hepburn.
"When your are pregnant, summer heat can cause dehydration, fainting and dizziness, and increases in urinary tract infections; it impacts amniotic fluid levels and pregnancy constipation," said Ms Hepburn.
To limit the pregnancy risks, she suggests expectant mothers to be strategic about what they do and when they do it.
"Do outdoor tasks in the morning or evening when the sun is lower and temperatures are cooler. When temperatures exceed 90 degrees Fahrenheit stay indoors in the shade near a fan or air-conditioner. Wear light-coloured clothing. Drink plenty of liquids to remain hydrated. Sports drinks with electrolytes can help replace lost salt and retain fluid," she told Tribune Health.
Ms Hepburn also suggests moms-to-be carry a spray bottle of water at all times.
"Take quick showers frequently to keep cool. Put feet up to alleviate swelling. Minimise salt intake, which will combat water retention. Take frequent naps. Ask for help if you're too tired to cook, clean or run errands. Beware of typical barbecue foods, such as potato salad and coleslaw that when left out in the sun can sour and cause you an upset stomach," she said.
Ms Hepburn is part of the Parchomas Parents Choice Bahamas, a support group that promotes events like "a girls' night with pregnant women."
This past Sunday, the group invited mothers-to-be to attend the "Ready To Pop" baby expo at the Dundas Centre for the Performing Arts.
Launched in 2013, Parchomas was started to not only empower expectant moms, but also entire families. Their latest event showcased various facets of prenatal healthcare, including products, services and technology, all of which are intended to aid Bahamian mothers and their infants.
Event highlights also included food booths and demonstrations on prenatal yoga, prenatal massages, car seat installation, as well as instructions on how to properly bathe and care for a baby.
There were also obstetricians, gynaecologists and paediatricians on hand to answer questions that the expectant mothers had.
Expectant mothers came out to explore the event and be educated on a number of things concerning their pregnancy.