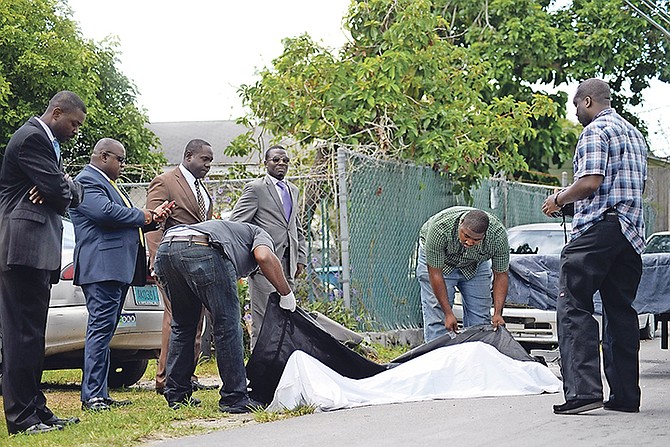 IN the face of the country's growing homicide list, Acting Commissioner of Police Anthony Ferguson said the Royal Bahamas Police Force has launched an "aggressive" approach to apprehend prolific offenders and increase police visibility.
He warned criminals to cease breaking the law or face "the stiffest law enforcement resistance."
Acting Commissioner Ferguson said every homicide recorded sends "shock waves" across the country and should be addressed in kind. However he sidestepped questions about the actual homicide count for the year thus far.
"So, I try not to worry about the (homicide) count," he told reporters summoned to police headquarters for a press conference in response to the spate of homicides, including one that occurred Tuesday morning.
He added: "As a Bahamian, I want to be able to prevent anybody from being killed and I encourage all Bahamians to think about the life. Don't think about the count."
Tuesday's homicide, which occurred in the Armbrister Street section of Fox Hill around 10.45am, marked the ninth homicide in the past two weeks.
Addressing these homicides, Acting Commissioner Ferguson stated: "While other crimes continue to trend down, we recognise that the killing of a human being by another human being sends shock waves throughout the island, especially when the circumstances is criminally motivated."
He continued: "There's been a total of nine killings within sections of New Providence over the past two weeks."
Despite this alarming fact, however, Acting Commissioner Ferguson moved to quell public concerns, warning that these killings are "predominately restricted (to) a small group of persons," most of whom he insisted are involved in a life of crime.
He said: "Police have identified most of them. Some of whom have already been charged with murder before.
"In an effort to further ensure a safer Bahamas, we have embarked upon an aggressive approach to prevent and bring to justice those persons who believe that they can't be caught.
"The public can be assured of high visibility of police presence in the communities going forward, as of today.
"I now speak directly to the criminal element, that as of today, you must discontinue your criminal behaviour because you will be met with the stiffest law enforcement resistance.
"Mothers, I encourage you to speak to your sons, fathers, I encourage you to speak to your sons, so that all issues could be resolved peacefully."
Tuesday's murder was the third fatal shooting in the eastern district of New Providence over the last month. Police are working to determine if these killings are connected.
"I can assure you that based on the intelligence that we have gathered so far, particularly as it relates to this matter this morning, our detectives are doing some things as we speak," he added.
Police have said they want to speak with a man named Deon "Hatchet" Demeritte for help in their investigation into the Armbrister Street homicide.
Also, Acting Commissioner Ferguson revealed plans to roll out several new initiatives later this week. He suggested these new initiatives will revolve around increased police visibility and communication with communities where crime is prevalent.
"You can expect to see increased visibility. We have the visibility now, but we will continue to increase that to be able to reduce the criminal element from running up and down the street and we want the public to assist us in providing information on that," he said.
"What people have to understand, policing is a partnership. All of us are from different communities and if you want to make your community safe, members of the public are urged to continue to support police and provide information.
"Again, you don't have to give your name, all you have to do is provide the information and we will find the way of presenting the evidence excluding you from having to stand in front of the criminal element.
"We are getting information from the tip line. We are very happy because we are getting information from persons in various communities who are in touch with detectives, are in touch with various police officers; so, they are coming forward and passing those information on to police, which is very, very effective."
Asked if the RBPF was in need of any resources that could aid in its crime fighting strategies, he stated: "I would say we need the Bahamian people. A lot of information lies in those same communities (we spoke of). A lot of information that will prevent crime and prevent these criminals from running about the streets with guns, lie within the communities.
"I want to appeal particularly to those persons who know those persons who are running around with guns, those guns kill, don't wait until you are injured by those guns. Now is the time to turn those people in."
Acting Commissioner Ferguson also sidestepped questions over the status of Police Commissioner Ellison Greenslade, who has been out of the public spotlight since reports indicated that he was offered the post of high commissioner to London.
The Tribune understands that Acting Commissioner Ferguson, who is deputy commissioner of the force, would assume the post of commissioner.