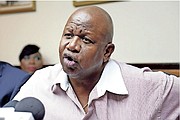 By RICARDO WELLS
Tribune Staff Reporter
rwells@tribunemedia.net
CONSUMERS will have to wait until October to see a reduction in their increased electricity bills, according to Bahamas Electrical Workers Union President Paul Maynard.
In an interview with The Tribune on Wednesday, Mr Maynard said high summer temperatures have rendered the ageing Clifton Pier plant, which runs on Bunker C fuel, incapable of producing the 260 megawatts needed per day to service New Providence.
As a result, he said officials have been forced to shift primary production to the company's Blue Hills plant, which runs on the more expensive automatic diesel oil.
Mr Maynard insisted BPL nor the government could "absorb" the financial blow of the fuel change.
He stated: "BPL is not supposed to absorb the cost. We can't, we are broke."
Mr Maynard added: "So what is happening, the engines at Clifton are not working properly and so, instead of using the Bunker C oil, which is cheaper, we are using the automatic diesel oil at Blue Hills, which is more expensive.
"Blue Hills is now our base plant."
According to Mr Maynard, the Clifton Pier Power Station has never had an output of more than 80 megawatts per day.
He said at peak output, the plant has never created in excess of 130 megawatts.
He indicated the island of New Providence's daily demand ranges around 260 megawatts.
"In the summer now, we are using 260 plus megawatts per day and Clifton is only giving us 80, so it cannot be our base. Blue Hills is carrying the island and so now, we are using more fuel and more expensive fuel," he said.
"So as the summer months go on, the bills will continue to rise unless we switch to propane. We can do that but it needs to be approved and it will also take a few months to set up so that won't be right now, but the process can start.
"In the winter we can rely on Clifton, but for now the fuel surcharge will continue to rise until the middle of October when people turn off their air conditioners and it becomes less hot," he concluded.
On Wednesday, the Nassau Guardian reported the Central Bank of The Bahamas' (CBOB) monthly economic report for June revealed household energy costs have soared, with a more than 60 per cent increase in BPL fuel charge year-on-year.
"Bahamas Power and Light's fuel charge - which exerts a large influence on the housing component of the Retail Price Index - firmed by 13.7 per cent to $15.58 per kilowatt hour (kWh) in June, month-on-month and advanced by 66.4 per cent over the previous year," CBOB noted.
Last month, Works Minister Desmond Bannister said while it is unfortunate that consumers have seen a significant increase in their BPL bills because of "faulty machinery," the government cannot continue to absorb the cash strapped utility provider's expenses.
Mr Bannister told The Tribune that BPL has a "huge legacy debt" and unfortunately the cost will have to be passed on to the public "directly or indirectly".
In a statement, BPL explained that an increase in bills for the month of May was also caused by its reliance on engines at the Blue Hills Plant.
Last Friday, newly appointed Bahamas Power and Light Chairwoman Darnell Osborne urged "patience" among consumers while tying the new BPL board to a loose timeline of a "few months" to enforce changes to spark improvements with the electricity provider.
She also said the board is also seeking to revolutionise and improve the sector to keep the cost of electricity at reduced levels.
Asked about the board's position on the increased cost of electricity in these summer months, Mrs Osborne said there will be work done toward the government's mandate of lowering the costs of electricity.