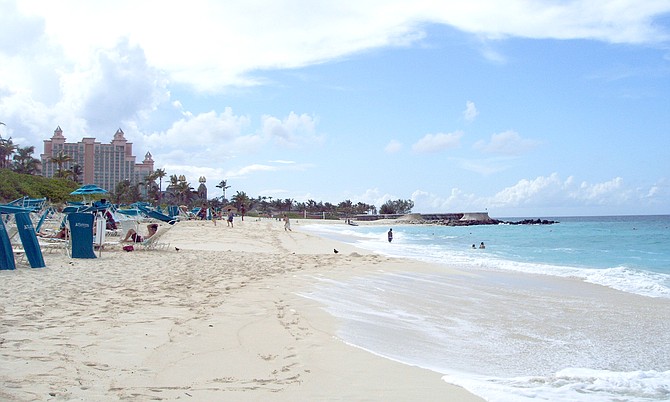 By NICO SCAVELLA
Tribune Staff Reporter
scavella@tribunemedia.net
AN international travel site has listed The Bahamas as the sixth out of ten most dangerous places for unaccompanied women travellers to visit.
Trip.com, in a recent survey, listed The Bahamas just behind Peru and ahead of Colombia on its "Least Safe Countries for Solo Female Travellers".
The survey noted while women travellers reported "no issues" and encountered "very friendly people" in The Bahamas, it is "better" for them to "stay in populated areas".
The survey was conducted by Trip.com's Solo Female Travel Team. The story was picked up by popular international business magazine Forbes and published on its website Forbes.com.
The Forbes report, however, also used information from a recent US State Department warning over New Providence's crime rate.
In that report, the US State Department lists the criminal threat level for New Providence as "critical," while also acknowledging an increase in criminal activity in Grand Bahama "this past year".
The report on travel.state.gov also notes the presence of criminal activity on the Family Islands, albeit stating that they occur "to a much lesser degree than on New Providence or Grand Bahama".
Armed robbery and sexual assault are "major criminal threats" facing US citizens in New Providence, the report said. It also said the US Embassy has received "multiple" reports of tourists being robbed at gunpoint or knifepoint in tourist locations in downtown Nassau.
Several of those incidents occurred "during daylight hours," according to the report.
Attempts to reach both Tourism Minister Dionisio D'Aguilar and National Security Minister Marvin Dames for comment on the issue were unsuccessful up to press time.
Nonetheless, in March, the Bureau of Diplomatic Security's Bahamas 2017 Crime and Safety Report classified New Providence as being a "critical" threat location for crime either directed at or affecting official US government interests.
Among other things, the US State Department said areas of Nassau referred to as "Over-the-Hill" should be avoided.
According to that report, despite 2016 experiencing a 26 per cent drop in serious crimes and 24 per cent fewer murders than 2015's record high, New Providence has witnessed violent crimes in locations more commonly frequented by US tourists.
In some instances, these incidents resulted in fatalities, the report said. There were 111 murders in 2016 and 146 murders in 2015.
The report also noted that criminality and violent crime has increased in Grand Bahama, notably crimes involving the use of machetes.
Generally, the report said the Royal Bahamas Police Force (RBPF) is receptive to reports of crime and takes threats of crimes against tourists seriously.
However, the report said timely police response can be reduced by a "lack of resources" or by the "physical constraints imposed by geography, infrastructure, and traffic."
"Police have limited emergency vehicles, and streets and houses are generally unmarked, inhibiting responders from locating affected residences," the report said.
"To ensure quick response to a residence, victims may have to go to the local police station and provide transportation to the site."
Last month, responding to a controversial video circulating on social media encouraging prospective visitors to avoid New Providence to preserve their own safety, Mr D'Aguilar said his ministry will "redouble" its marketing efforts to counter the "false information" contained in the video.
Still, Mr D'Aguilar admitted that New Providence "is not something that we should be proud of," adding he is "unimpressed" with the experience cruise visitors have when they arrive at the Port of Nassau. Mr D'Aguilar, in regretting the current state of affairs in New Providence, stressed that "our tourist product needs some work".