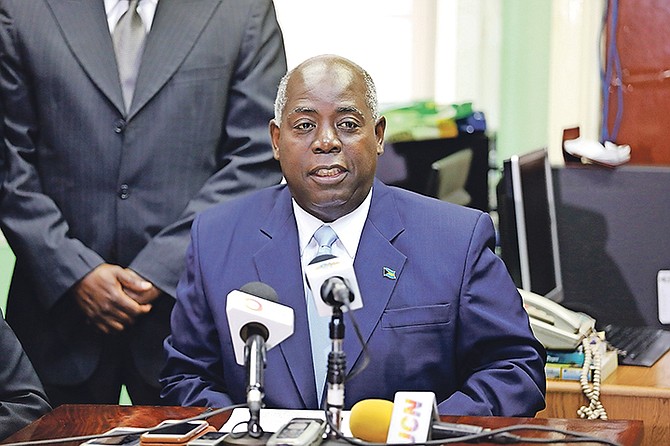 By SANCHESKA DORSETT
Tribune Staff Reporter
sdorsett@tribunemedia.net
PROGRESSIVE Liberal Party interim Leader Phillip "Brave" Davis said yesterday he "doesn't understand" calls from Prime Minister Dr Hubert Minnis for him to tell the nation he is "sorry" about errors made during the Christie administration because neither he nor the PLP did anything "deliberate" to harm the Bahamian people.
In an interview with The Tribune, Mr Davis said Dr Minnis should stop asking for an apology because he never promised Dr Minnis one and "so I do not have to give him one".
On Tuesday, Dr Minnis said while he appreciates Mr Davis admitting the opposition party made mistakes during its last term in office, he is still waiting to hear "a real apology".
In an interview with reporters, Dr Minnis said he listened "attentively" to Mr Davis' address to the nation and said he noticed the words "I am sorry" were missing.
However, he said he understands that Mr Davis is "fighting for his own survival" and may have simply forgotten.
On Monday night during a televised national address, Mr Davis admitted the former government was not perfect, made "serious" mistakes and lost the "trust' of Bahamians, but offered no outright apology for the missteps of the previous Christie administration.
Instead he sought to justify the former governing party's actions saying that during its last term in office the Christie administration was always thinking of the people affected by its policies.
"I never promised him an apology, I never promised the prime minister an apology so I don't have to give him one," Mr Davis told The Tribune on Wednesday.
"What is this issue about being sorry and what is the sorry about? We are all human and we are subject to errors and mistakes. So why do I have to say sorry? Because we did nothing deliberate to harm anyone, we did not do anything that we thought was not in the best interest of the Bahamian people."
Mr Davis said the PLP made its case to the public for re-election and were "voted out" of office. He said the opposition will spend the next few years ensuring the same mistakes are not repeated when the PLP regains power.
"The people convicted us and they sentenced to a maximum of five years," Mr Davis said.
"We are serving our sentence and during this period we will rehabilitate ourselves and trust that we will not make the same mistakes and be better for the Bahamian people."
Despite conceding his party's mistakes on Monday, Mr Davis also castigated Dr Minnis, saying his national address last week left the Official Opposition "perplexed" and offered no vision, concrete policies or credible plans for taking the country forward.
The former governing party was wiped out of office on May 10, only winning four out of 39 seats in the House of Assembly.