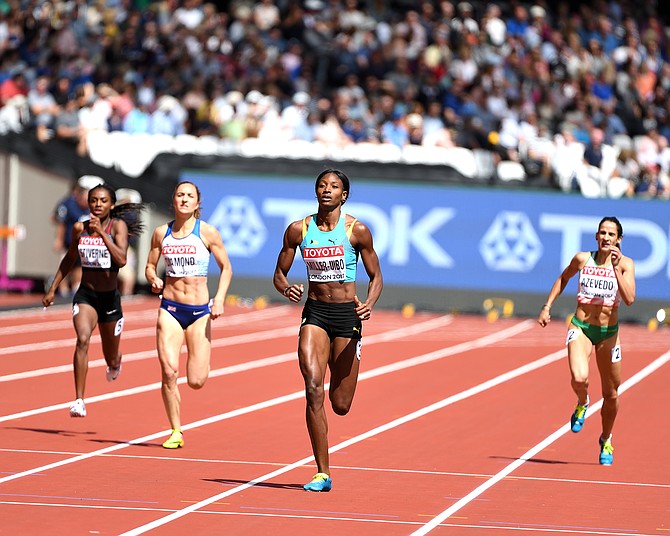 By BRENT STUBBS
Senior Sports Reporter
bstubbs@tribunemedia.net
LONDON. England: In a dominating fashion, 2016 Olympic Games champion Shaunae Miller-Uibo began her quest for the rare 200/400 metre double by powering to an easy victory in the first round of the women's 400m at the 16th IAAF World Championships.
Inside the Queen Elizabeth Olympic Stadium in the first session of day three of the championships, Miller-Uibo took control of the second of six heats from start to finish as she crossed the finish line in 50.97 seconds, the third fastest qualifying time going into Monday's semi-final.
Only Salva Ed Naser, in a Bahrain national record time of 50.57 and American Phyllis Francis in 50.94 for first and second respectively in heat four, were faster than Miller-Uibo, who is gearing up for her third showdown with American Allyson Felix in a final. Felix, the defending championships champion and the runner-up to Miller-Uibo at the Olympics in Rio de Janeiro, Brazil, won the first heat in 52.44 to qualify 29th overall.
"It was good. I just followed by coach's instruction and took it easy, but I'm ready for the second round," said Miller-Uibo in a brief interview with The Tribune after her performance.
Miller-Uibo, 23, got out quickly in lane two, making up the stagger to take control of the race on the back stretch. By the time she got off the final curve, her 6-feet, 2-inches frame was well ahead of the field. As she slowed down coming to the line, Jamaican Stephanie Ann McPherson closed in the gap for second in 51.27 to qualify along with Nigeria's Yinka Ajayi (51.38) and Romania's Bianca Razor (51.66).
"The main thing was to just take it easy and get through to the second round as quickly as possible," she said.
The semi-final is scheduled for Monday at 2:55 pm when Miller-Uibo will run out of lane five in the first of three heats sandwiched between Nigeria's Patience Okon George in four and American rising star Quanera Hayes in six. Felix is in heat two with Jamaicans Shericka Jackson (bronze medallist at both of the last World's and Olympics) and veteran Novlene Williams-Mills. Francis heads heat three with Botswana's Amantle Montsho and Chrisann Gordon from Jamaica.
The first three in each of the three heats and the next two fastest times will advance to Wednesday's final at 3:50 pm.
Felix, the most decorated American female sprinter who will celebrate her 32nd birthday on November 18, said she's looking forward to eventually facing Miller-Uibo again, having split their first two head-to-head competitions over the last two major events.
While Felix ran away from Miller-Uibo at the 2016 World Championships in Beijing, China, it was a different scenario in Rio last year when Miller-Uibo had to lean and fell across the line for the Olympic gold. What will be the outcome this year?
"It's exciting, but I never want to get ahead of myself," Felix said. "Onto the semi and just do what I need to do."