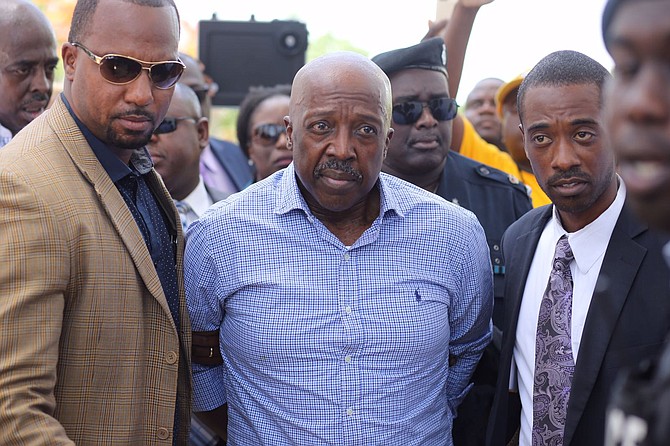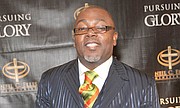 By NICO SCAVELLA
Tribune Staff Reporter
nscavella@tribunemedia.net
BISHOP Neil C Ellis has lamented the "inhumanity" shown to former Cabinet Minister Shane Gibson before his recent arraignment, claiming that the former MP's treatment was inconsistent with the concept of "basic respect for human dignity".
Bishop Ellis, in a pastoral letter to members of the Mount Tabor Church, regretted Gibson being made by police to "hop" up the steps of the Magistrate's Court complex for his arraignment despite suffering an injury "which required the aid of crutches for support".
Bishop Ellis' letter was in reference to the former national insurance and labour minister's arraignment in a Magistrate's Court last Thursday on 36 bribery and extortion-related charges.
Before his arraignment, Gibson had voluntarily presented himself to the Central Detective Unit (CDU) on Wednesday to assist officers with an ongoing investigation.
Gibson's attorney, Anthony McKinney, QC, has reportedly said his client injured his foot during a recent boating trip and that his limping was "not the result of any brutality".
The next day, after he was taken to Magistrate's Court, Gibson reportedly got out of a police car using crutches. He reportedly used those crutches to enter the nearby police station.
A short time later Gibson left the station in handcuffs and no crutches. With the assistance of officers, Gibson limped and hopped his way up the stairs to court. He was later seen using the walking aides while at the Supreme Court for his bail hearing.
In his letter, Bishop Ellis, senior pastor of Mount Tabor Church, noted it was "painful" to watch the arraignment of a man he said is a "faithful member" of the Mount Tabor congregation.
The politician's wife, Pastor Jackie Gibson, is also an active member of Mount Tabor.
Charging that the "laws of man" can only be just "when they conform with the laws of God and are enforced with basic respect for human dignity," Bishop Ellis called on "all relevant authorities" to "question whether the manner in which Mr Gibson was handled was consistent with this principle."
"I am aware that Mr Gibson was called in for questioning by the police," Bishop Ellis said. "I am advised that just prior to this he suffered an injury which required the aid of crutches for support. The videos I saw show that while being escorted by several officers to his arraignment, Mr Gibson was made to abandon his crutches in order to be handcuffed behind his back.
"Observers report and video affirms that he limped along the street and literally hopped up the steps to the level of the court.
"Based on the totality of the circumstances . . . and Mr Gibson's long-standing service to multiple sectors of our community and the nation itself, I have struggled mightily to understand what risk was being protected against that required the measure of inhumanity shown to Mr Gibson," Bishop Ellis, who noted he was out of the country, wrote.
"We are well served to be guided always by the simple admonition of St Paul to the Galatians that we are to 'do unto others as we would have them do unto us.' This simple concept is so powerful that it is central to our shared values of civility. Any breach of this basic Christian principle, especially in the exercise of public duty, can result in serious and long lasting negative consequences for our nation."
Last week, Official Opposition Leader Philip "Brave" Davis expressed outrage at the circumstances surrounding Gibson's arraignment, and noted Progressive Liberal Party supporters will be asked to "come together shortly to demonstrate our contempt for these inhumane actions."