By AVA TURNQUEST
Tribune Chief Reporter
aturnquest@tribunemedia.net
THE government has to clean up the "mess" left behind by the former administration before it can make good on key campaign pledges like the repeal of value added tax on certain items, Press Secretary Anthony Newbold said yesterday.
Mr Newbold stressed that Prime Minister Dr Hubert Minnis has not abandoned his campaign pledge to repeal VAT on breadbasket items at a press briefing held at the Office of the Prime Minister.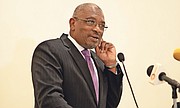 "He (Dr Minnis) still intends to live up to those promises made," Mr Newbold said, "again when you hear from the minister of finance on any number of occasions, you all are always talking to him. He has to clean up what the government found, what was found, there was a mess and that has to be cleaned up before the prime minister goes and says we're going to repeal VAT on breadbasket items."
Before the election, Dr Minnis promised the FNM would remove VAT on breadbasket items, education, water and light bills, medicine, healthcare and insurance.
However, in the Speech from the Throne, read at the opening of Parliament in May, it was noted that the government intends to reduce VAT on breadbasket items, but not to repeal the tax on these items, or the other areas repeatedly mentioned by Dr Minnis.
Yesterday, Mr Newbold said: "No, that would be irresponsible, it would probably add to the difficulty that we have now. No, the situation has to be cleaned up. The prime minister assures me, as he assures the Bahamian people, he's committed to live up to all those promises he made on the campaign trail, including repealing VAT on breadbasket items."
Moving on to other matters, Mr Newbold underscored that Attorney General Carl Bethel will not recuse himself from any of the recent court cases for alleged bribery involving former MPs.
Mr Newbold advised that Mr Bethel would not be making any public statements on any law enforcement matters, adding that press communication going forward would likely be restricted to his Senate contributions.
He flagged the role of the attorney general as mandated by the Bribery Act.
"As the attorney general, (Mr Bethel) he must authorise all matters related to alleged bribery," he said.
"He's presented with the result of any investigation and in fact those investigations cannot be pursued without the approval of the attorney general.
Mr Newbold continued: "Further the attorney general will not be making any public comment on law enforcement matters, and I'm sure you can imagine that any comment from the attorney general would end up as 'exhibit A' in any trial that possibly results from any of these investigations.
"You want a statement from the AG it will probably come from him in the Senate.
"I like to note that the AG is also guided by the director of prosecutions before signing off on any incipient prosecution, and his signature on that fiat is the first thing that the judge is going to look for."