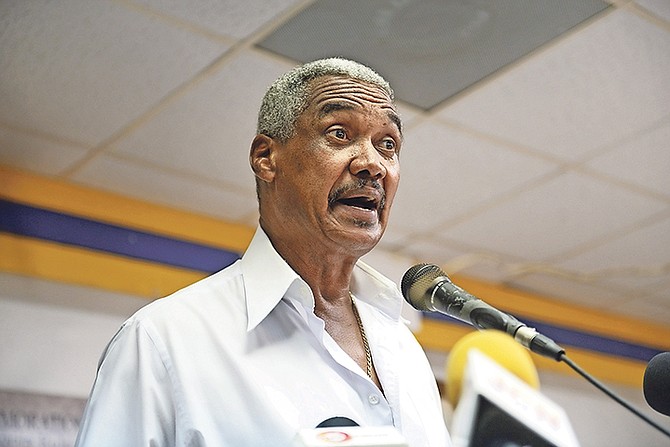 By RICARDO WELLS
Tribune Staff Reporter
rwells@tribunemedia.net
FORMER Executive Chairman of the Bahamas Electricity Corporation Leslie Miller has said there is no "tangible evidence" of improvements at Bahamas Power and Light, as he called CEO Pamela Hill's comments on the matter an "insult to every Bahamian paying a light bill".
Contending that a "spade should be called a spade," the former Tall Pines MP said "the country is out millions" and all it has to show for it is "a long list of things we could have achieved all by ourselves."
Mr Miller lost his post at BEC in 2015 after the government signed a transition services agreement with American company PowerSecure for management of BEC, now called BPL.
He asserted on Thursday that the current executives are "constantly hiding behind past failures" and "continue to avoid providing tangible evidence of their so-called successes."
On Wednesday, BPL CEO Pamela Hill defended PowerSecure's $1.1m performance bonus under the former Christie administration, pointing to "step by step improvements" and "higher reliability" of BPL's services as justification for the controversial incentive.
Ms Hill insisted that while none of BPL's issues will be resolved in an "overnight fashion," there have been "overall improvements" in BPL's reliability and efficiency to date.
She subsequently pointed to the acquisition of an additional 40 megawatts of rental power generation in New Providence and "new generation" on some Family Islands as initiatives that have "helped to improve our reliability."
In response, Mr Miller called her assertions "ridiculous".
"How in the hell can you say this [expletive]. She knows damn well that her group has done nothing to improve the state of electricity in this country," Mr Miller said.
"Where is the tangible evidence of what she is saying? All the damn things she pointed to, are things we are spending a ridiculous amount of money on. And we aren't getting any value for the [expletive]."
According to Mr Miller, before the PowerSecure deal, consumers in the Bahamas paid 31 cents per megawatt-hour. 
He said that figure has now been increased to 43 cents per megawatt-hour.
"Their involvement was supposed to fix things? Tell me what they've fixed since coming here. Electricity costs have doubled since they came on board.
"Where is the long-term fuel deal? Where are the improvements to Clifton? Where is the reduction in cost?
"You've got to be [expletive] me. Stop it. Seriously, stop it. We had Clifton operating at peak capacity. Clifton is key to power in this country. They've failed miserably.
"They're still renting equipment at Blue Hill and aren't doing anything to correct that situation because they know regardless of how much they spend and lose, they're getting paid," he contended.
PowerSecure's five-year management services agreement, reportedly worth as much as $25m, was promoted by the former Christie administration as being the answer to sub-par electricity service and high electricity bills. It was signed in early 2016.
When contacted for comment about Ms Hill's remarks yesterday, Bahamas Electrical Workers Union's (BEWU) President Paul Maynard urged consumers to, "in their haste to question PowerSecure's performance bonus," not overlook "the life of luxury and comfort" being provided to many of the company's executives.
Mr Maynard said while BPL has had some success, more needs to be done to improve the company's "day-to-day quality."
"We've seen some failures since they've been here," he said. "BPL came in here and met this place in a mess. Systems needed to be improved and corrected and they've attempted to do that.
"But the fact remains, the contract signed mandated they be paid. There is no way around that. With all that said, many of these executive board members, their salaries and bonuses need a second look."
He added: "Hundreds of thousands of dollars, luxury cars, all the perks and they aren't worth it. That is where we need to start with getting value. Look at those contracts and demand value for what they get. 
"I am not afraid to say what needs to be said in this instance. Mr (Deepak) Bhatnagar, how is he still here eating up money and providing nothing?"
Mr Bhatnagar, BPL executive director, along with former Minister of Works Philip "Brave" Davis steered the task force appointed by the Christie administration to look at various proposals for a generation plant which would have assisted in dealing with the challenges at the utility provider.
Mr Maynard continued: "This man has been here and is still here eating up money. He tells these stories and the people in charge believe it. He messed up on a number of initiatives and is still working the clock, earning $200,000 and driving a $70,000 luxury car.
"This is where the country is losing out, people like him. So while we in a rush to jump all over BPL, the company, let's take a hard look at these people buried in the system, findings ways to live the life off of us," Mr Maynard concluded.