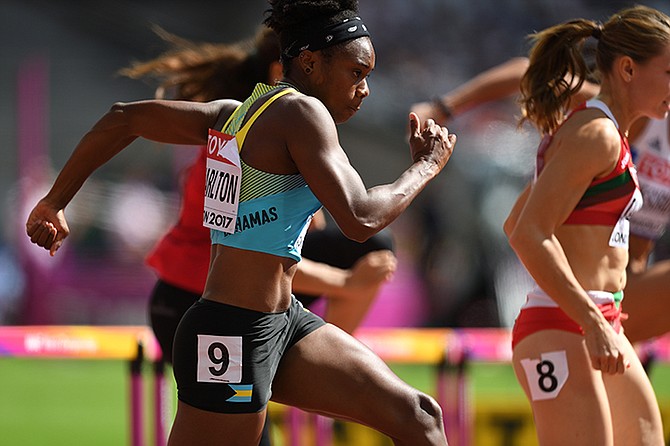 By BRENT STUBBS
Senior Sports Reporter
bstubbs@tribunemedia.net
LONDON, England: After the recall of her race, Devynne Charlton regained her composure and got out with the quickest start, but was unable to maintain it the rest of the way in her semifinal heat in the women's 100 metre hurdles.
On day eight of the 16th IAAF World Championships, which also saw the departure of Donald Thomas in the men's high jump, Charlton gave it a gallant effort, only to fall short at the end.
Her time of 12.95 seconds for sixth place left her 13th overall as all four Americans, including world record holder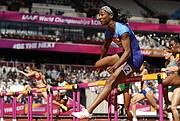 Kendra Harrison, whom Charlton faced for the second time, advanced to the final on Saturday.
"I don't know. I have to look at it," said Charlton when asked about her race. "I felt pretty good about my start. I felt I was leading. I was on the outside so I really couldn't see, but it felt like I was in good position."
She was.
After a false start was charged to the entire field, Charlton came out smoking as the first competitor to approach the ten flights of hurdles. She actually led up to the fourth hurdle, then the rest of the field started to close in.
"I really don't remember that much from it honestly. I have to go back and watch it," she insisted. "All I remember was a good start and I felt them closing on me. I just had to try and hold on."
Charlton took on Harrison for the second time as they met in the first round earlier in the day. This time, Harrison struggled to get third place in 12.86 for the last of the two fastest losing times to get into the final.
Former champion Dawn Harper-Nelson won the heat in a season's best of 12.63, the second fastest time behind Australia's Sally Pearson, the winner of heat one in 12.53.
Earlier in the day in the heats, 21-year-old Charlton clocked 13.02 for fourth place in heat three for an automatic qualifying spot. She was beaten out by Harrison, the fastest qualifier in 12.60. 
Bulgaria's Alina Talay got second and Jamaica's Yanique Thompson was third as they both ran 12.88.
"I felt ready for the race but it turned out to be pretty sloppy," said Charlton, who will be preparing to return to Purdue University after the championships. "I'm happy that I got the auto qualifier, so it will help me to get ready for semis."
At the last championships in Beijing, China in 2015, Thomas finished sixth, but he was confident that he would be in a better position to perform against the field here.
But coming into the championships after surviving a bout of chickenpox about a month ago, Thomas could only muster a leap of 2.22 metres that placed him last in the field of 14 competitors in Group A. 
"It was rough out there. I just wasn't up to par," Thomas said of his performance. "In these events, you have to come jumping. I wasn't good today."
Technically, Thomas said he just wasn't clicking today.
"I got the chickenpox in July and I was thinking about shutting down the season, but I wanted to continue," said Thomas, who continues at the Diamond League Final before he finishes for the year.