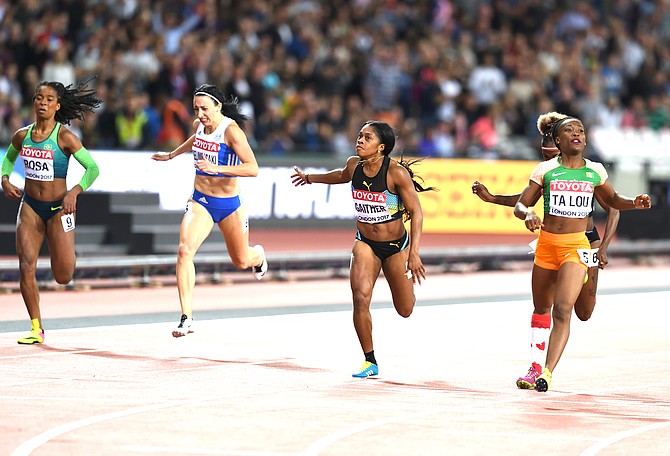 By BRENT STUBBS
Senior Sports Reporter
bstubbs@tribunemedia.net
LONDON, England: Whatever happens tonight, TyNia Gaither said she will be quite content with her first appearance in a global final of the women's 200 metres.
On Thursday night at the Queen Elizabeth Olympic Stadium, Gaither joined national record holder Shaunae Miller-Uibo as the first two Bahamians to reach the final of the half-lap race at the 16th edition of the IAAF World Championships.
She finished fourth in 22.85 seconds in the last of three heats – Ivory Coast's Marie Josee Ta Lou, the 100m silver medalist, was first in 22.50. Gaither earned the last of the two fastest losers spots in the final at 4:50 pm EST.
"It's the best feeling in life," said an emotional Gaither, who is making her breakthrough in her first professional season. "My season was so long and so hard.
"I fought hard for that. To be able to do that is a blessing."
It was indeed a time of celebrations for the 24-year-old Gaither, a native of Grand Bahama.
Gaither, 24, had the 13th best time of 22.71 coming into into the championships and a personal best of 22.54. Now she's on the verge of something bigger when she comes back tonight.
She will run out of lane three in the final between Canada's Crystal Emmanuel in two and 100m silver medalist Marie-Josee Ta Lou from the Ivory Coast in four. Miller-Uibo will be in five next to Schippers in six.
Rounding out the field will be American Daejah Stevens in seven, Great Britain's Dina Asher-Smith in eight and American Kimberley Duncan in nine.
"I'm sure it's a bit of history for us. It's just a blessing," she stated. "I didn't expect this honestly."
Looking at Miller-Uibo's resilience in coming back after her disaster in the 400m final, Gaither said what she did was just incredible.
"That is the type of person that she is," she pointed out.
"I just want to follow suit."
As she prepares for the final, Gaither emphasised: "We're going to make it happen for Team Bahamas. We're going to make it happen."
In her semis race, Gaither didn't have as fast a start as she expected coming off the curve.
But she dug down deep and was able to propel her way back into contention on the straightaway to get into the final.
"I knew I had to finish. In my head, I kept saying 'arms, arms, arms.' That was what got me through."