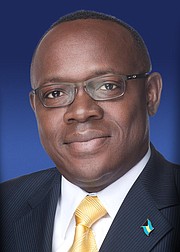 By RASHAD ROLLE
Tribune Staff Reporter
rrolle@tribunemedia.net
EXUMA & Ragged Island MP Chester Cooper called out the Free National Movement yesterday for "marching recklessly against the establishment of Bahamas Resolve" in 2015 only to now embrace the special purpose vehicle as part of a plan to turn around the troubled Bank of the Bahamas.
His comments came after Wayne Aranha, chairman of the bank, said $166m in bad loans at the bank will be transferred to the SPV, removing the loans from BOB's balance sheet.
The move, former Resolve Chairman James Smith has said, will likely put Bahamians on the hook for much of the interest and principal payments related to this, not least because the SPV has so far struggled in its mandate to go after the loans.
Expressing support of the Minnis administration's decision to transfer bad loans to Resolve, Mr Cooper said in a statement released to the press: "BOB has been in deep trouble because of what has happened over several administrations. There is no getting around it.
"The government and ultimately the taxpayers will still be on the hook for servicing the $166 million to be transferred and the $100 million transferred under the previous administration through letters of comfort and promissory notes.
"Financial services is a confidence business. In that regard, the PLP plans to work with the Bahamas Financial Services Board and the Ministry of Financial Services to continue to strengthen and advance the Bahamas as one of the world's top-tier financial services centres.
"However, let me be crystal clear: The continued bailout of the Bank of The Bahamas by the government on the backs of the taxpayer is untenable in the long-term. Now that there is bi-partisan support for the notion that BOB is sufficiently important to the national well-being that strong support from the government is warranted; confidence in the bank itself will hopefully be restored such that no further intervention is required. An additional step to bolster confidence is for the government to be resolute that the board and its professional management team will autonomously run the bank. I also look forward to the promised debate in Parliament over this latest proposed transfer, as articulated by the deputy prime minister, to better understand the current position of the bank, whose failure must be prevented at all reasonable costs. We also look forward to the articulation by BOB's professional management of the bank's turnaround strategy and path to profitability, including assessing its footprint and product offerings, innovative partnering, cost rationalisation, delivery systems to enhance customer service, improving its relationship with regulators and enhancing management if/where necessary."