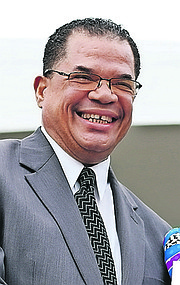 By RICARDO WELLS
Tribune Staff Reporter
rwells@tribunemedia.net
THE conservative fiscal measures undertaken by the Minnis administration were introduced as a means to avoid another downgrade, according to Labour Minister Dion Foulkes, who yesterday contended that the nearly 6,000 public service hires by the Christie administration played a significant role in past credit downgrades.
In an interview with reporters outside the Office of the Prime Minister on Tuesday, Mr Foulkes, responding to calls by the Department of Statistics for more resources, insisted the government remains "hard pressed" to meet its financial commitments and stands unable to "add people to the government payroll".
"We want to avoid another downgrade at all costs," he said. "If we begin to add people to the government payroll, it will not be favourable for us (as it relates to) the international ratings agencies."
Mr Foulkes pointed to the Christie administration's hiring strategy as "one of the reasons" the Bahamas was downgraded twice during its tenure and teetering on a third shortly after being voted out of office in May.
To that end, he maintained the Minnis administration would rather limit public service hiring than face another downgrade to the country's sovereign credit rating.
"If we are to avoid a downgrade, a further downgrade, we have to tighten our belts," the senator said before heading into a Cabinet meeting.
"The prime minister said it in his national address, the deputy prime minister and the minister of finance has said it and that is the reality," he added.
"The whole point is for the economy to get strong. That is what we are trying to do. The key element in this is the private sector.
"We are very pleased that Baha Mar will employ an additional 2,500 persons by the end of next year. All three of the hotels will be operational by the end of next year and that will be a massive injection in our economy.
"There are some big plans that will be announced shortly in Grand Bahama, I am not at liberty to say anything, but the appropriate minister will make an announcement shortly.
"There are a lot of good things happening as far as the economy is concerned, a lot of opportunities for Bahamians," Mr Foulkes said.
Last Friday, the Department of Statistics reported the country's unemployment rate dipped below 10 per cent for the first time since the 2008 recession.
The Labour Force Survey, conducted between April 24 and April 30, put the country's unemployment rate at 9.9 per cent – a 1.7 per cent decrease from the results of October's survey.
The decline came as 7,770 people gained employment while there was a decrease of 3,485 unemployed people.
According to the survey, the unemployment rate in New Providence was 10.4 per cent; in Grand Bahama it was 12.4 per cent and in Abaco it was 7.8 per cent.
In a statement released Monday evening, Mr Foulkes applauded the report, but called for adjustments to survey's methodology.
He continued yesterday: "The significant amount of those jobs were temporary jobs related to (Bahamas Junkanoo) Carnival, the 52-weeks programme and election hiring; especially in Abaco, Grand Bahama and New Providence.
"A significant amount of those persons are now unemployed; those who were employed on a temporary basis," Mr Foulkes added.
"As a government, Prime Minister Minnis has instructed all of us to do whatever we can within our ministries to create jobs; permanent jobs, not necessarily government jobs, but private sector jobs.
"Our economy is generally driven by small businesses and by large businesses.
"We are trying to do everything in our power to encourage the business community to employ Bahamians and to increase the employment base."
In the months since taking office, the Minnis administration has overseen several layoff exercises, the latest coming Monday at the Bahamas Agriculture and Industrial Corporation.
Fifteen workers said to be hired on three-month contracts were let go Monday after their contracts expired.
According to a well-placed source in the Minnis administration, the workers were Progressive Liberal Party "operatives" all hired just before the May 10 general election, a claim Mr Foulkes denied yesterday.
Deputy Prime Minister K Peter Turnquest, last month denied claims that the Minnis administration is seeking to inflict "pain" with its conservative fiscal measures, insisting the government will not participate in "any action that is going to further cause the Bahamian people to suffer."
Mr Turnquest, also the minister of finance, said the government will "not be using a blunt instrument for which a precision scalpel is required" as it attempts to reduce spending, but will aggressively seek to "bring discipline to government finances and rationalisation of the programmes we are engaged in."
Mr Turnquest also said the government was not seeking to stifle the essential services provided by such entities as the Department of Social Services and Ministry of Education in its attempts to introduce fiscal reform, but is more focused on "the wastage and the excess in these ministries."