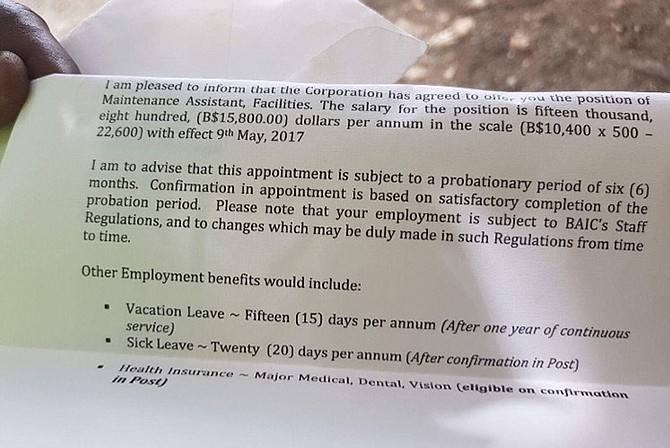 By RASHAD ROLLE
Tribune Staff Reporter
rrolle@tribunemedia.net
A 41-year-old mother of ten is wondering how she will take care of her six school-aged children now that she has been let go from the Bahamas Agriculture & Industrial Corporation.
She is one of the 15 workers  sent home from the corporation on Monday.
"I didn't work for three years before I got that job in May," the mother, who asked not to be identified, said yesterday. "I thought things were finally coming together for me, but now look; it's hard with no help."
She's not alone. A father of six who left his job at Atlantis in May seeking the favourable benefits government employees receive told The Tribune he's wondering about the life he will provide for his nearly two-year-old daughter and her siblings after he too was fired on Monday.
"I applied for that job three times and I took it only after the human resources representative assured me it was a permanent job, and now look at the position they've put me in," the father, who also did not want to be named, said.
The fired workers were hired in May. The father of six said he was hired one week before the election and the mother of ten said she was told on May 8 that she would get the job. The Tribune saw at least one other contract for a fired worker that was signed on May 9 – the day before the general election. 
As the Minnis administration embraces a conservative approach to public sector hiring – placing a freeze on new hires - the experiences of the fired employees highlight the no-win situation the administration faces as it tries to curb expenditure in part by undoing the public sector excesses that characterised the Christie administration's tenure. 
An official in the Minnis administration said the workers were let go after their three-month contract ended. The source said the employees were brought on ahead of the May 10 general election and seen as Progressive Liberal Party "operatives."
However, a contract of a fired worker seen by The Tribune showed no three-month limitation on his work. And others who spoke to this newspaper denied their period of work was only for three months. The contract this newspaper saw said the appointment was "subject to a probationary period of six months" and that "confirmation in appointment is based on satisfactory completion of the probation period."
The father of six, who worked in the maintenance department at BAIC, also insisted he had no political ties to a party and was no "operative."
He criticised the new chairman of BAIC, Miriam Emmanuel, for refusing to meet with the fired employees. He criticised the government for failing to help them secure a new job. 
"When I was accepted in May for the job I specifically asked them if it was a permanent job," the father said. "They told me 'yes' and that's the only reason I left Atlantis. I would not have accepted it if it were a short-term job or a contract job. Since that's what they told me, the least they could've done if they were going to fire me was put in a word with Atlantis to help me get that job back."
The father of six doesn't buy the argument that expenditure cuts in an era when the country faces costly credit downgrades are so necessary that the government has to let people like him go.
"If you saying there needs to be cuts, you should be looking at the people who on pension and still on the payroll," he said. "If you on pension, still employed, that's double dipping. They should start their cuts with them, not with innocent ones like me who trying to make it through." 
The Minnis administration has pledged to counter the practice of rehiring pensioners. The status of its efforts to do this is not clear. 
The fired workers told The Tribune that since being hired they were paid for the first time Monday when they received a cheque along with a letter informing them that their services are no longer necessary.
"We were working like everybody else, going into the field like everyone else so they can't say they didn't need the bodies," the father said. He said he made several failed attempts in recent weeks to meet Attorney General Carl Bethel after the general manager of BAIC told them higher powers would decide on their employment future. 
"My family of six in my house," he said. "All my children underage. One is 22 months old. One is seven, one nine, one 13, one 15. I was living off my saving funds for four months because they weren't paying me. My wife don't work. This the position they put me in where I have to now jump on every part time job to maintain my family." 
As for the mother of ten, the Marathon resident admitted she was a major, vocal supporter of the Progressive Liberal Party and she suggested she got her job through help from former BAIC Chairman Dion Smith.
However, she said: "I didn't think when I got the job that if the FNM came in I would lose it. Whether it's FNM or PLP, we all lose if people don't have work."
She said two of her children are working, but both have families of their own to sustain. "I still don't know which way to turn," she said. 
She added: "They gave us no notice that we were being fired. No one even came to say they appreciated the work we did. And what's so bad is they gave us the letter at 4pm and had security guards in the room like we were some kind of threat."