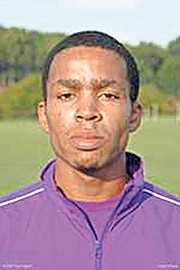 By RENALDO DORSETT
Tribune Sports Reporter
rdorsett@tribunemedia.net
Oneil Williams is now en route to Kenya to resume his training and said this latest bout will be the deciding factor in his qualification for the IAAF Half Marathon Championships.
Williams has set November 19, when he returns home for the Bahamas Roadmasters Championships, as his target date of qualification for the World Championships.
The IAAF World Half Marathon Championships is scheduled for March 24, 2018 in Valencia, Spain. The qualifying standard is 1:06.00 between the qualifying period of April 23, 2017 to January 31, 2018.
Williams said the training in Kapasbet, Kenya has created a rededication in his focus with his personal regimen as he draws inspiration and strategy from some of the best distance runners in the world.
"There has to be this level of dedication as far as making it with anything you do, I've run with world champions, record holders, people who stand out among elite athletes and they had backstories before their great successes that are far worse than mine.
"Wilson Kipsung, former record holder in marathon, was telling me about his struggles for years and about 5-6 years where he just lost continuously to guys he would routinely beat later, so he inspires me to just stick with it," Williams said.
"It was difficult adjusting to training and environment and the altitude. Coming from sea level to that was an adjustment and after those years it became easier and I have benefitted from it. I would say from then to now I'm a far superior runner and now is the time to take it to the next level."
He most recently participated in the 2017 Asics Stockholm Marathon but said with his final trip to Kenya to "fine tune" strategy and training he expects a breakthrough for himself and for distance running in the country.
"I just have to stay healthy . . . this three month course will be to get me completely ready moving forward," he said, "The struggle is not getting too much attention. We look at the jumpers and the sprinters excelling.
"I've always heard stories about distance running not getting a chance and I want to change that. It'll open up some new avenues for distance runners I would like for the BAAAs to put financial backing behind a distance training programme for the developmental athletes.
"We will not all be sprinters or jumpers."
Williams thanked his numerous private donors and corporate sponsors for their assistance thus far.