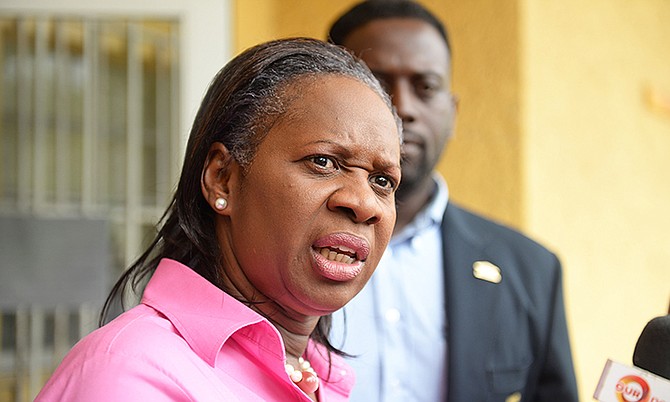 By RASHAD ROLLE
Tribune Staff Reporter
rrolle@tribunemedia.net
THE recruitment of Cuban teachers before the new school term doesn't satisfy the worrying shortage the country faces, Bahamas Union of Teachers President Belinda Wilson said yesterday.
Her statement came a day after the National Congress of Trade Unions of the Bahamas (NCTUB) released a statement seeking clarity from the Minnis administration about a number of its plans and policies, including the teachers.
"Cuban teachers have been recruited for many years now in our system and they would mostly be in the technical area," Mrs Wilson said.
"Again this year there is a group of Cuban teachers that will be hired. I'm really
concerned about the teacher shortage and how the rapid pace in which teachers are retiring is not (being met with a similarly rapid pace of new) hiring or recruiting or even producing of teachers.
"We just came out of a three-hour meeting with the (Minister of Education Jeff Lloyd) and so one of the things we would've discussed is how is it that we're going to tap into high school students to steer them in the direction for the teaching career path. We're talking about English and math and science. What we recommended is the expansion of the teacher cadet programme and then we need to identify our teachers from earlier on to steer them into the path of teaching. We discussed the possibility of them being bonded like we used to do though it seems the ministry has moved away from that."
Mrs Wilson, who has had an infamously thorny relationship with previous administrations, described Mr Lloyd as "open" yesterday and seemed optimistic about her union's relationship with the Minnis administration.
"He was open with us (in our meeting)," she said. "We were frank in our discussions and the union has agreed that we will work together. If there is a challenge, we expect him and his team to inform us and he's asked us to do the same. Prior to the meeting today with (him), I was just hearing little bits of pieces about what their vision is. After a three-hour meeting we're able to now understand that yes we want to complete the school repairs, yes we want to make sure the teachers get their pay, yes we want our $1,000 (payment) in September, we want to make sure all the millions in back pay that I've been talking about for 12 years is paid to the teachers."
Despite the optimistic tone, she warned: "We ain' never scared and the work has to be done and whatever words (they) would've spoken to us has to be backed up with actions. We are hopeful but we expect things to happen. We want it to happen in a systematic way where we are consulted and we are real partners with (the administration)."