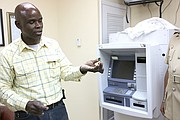 By RASHAD ROLLE
Tribune Staff Reporter
rrolle@tribunemedia.net
EIGHTY-SIX people have been victims of fraud involving ATM skimming devices in the last month, Debra Thompson, Assistant Superintendent in charge of the Business & Technology Crime section of the Royal Bahamas Police Force said yesterday.
Fraudsters have stolen $72,000 so far, an amount police expect to rise as more people check their financial records.
Complaints suggest the fraud have mostly involved ATM machines in the downtown and Palmdale areas. All banks, however, are equally susceptible to the fraud as past cases suggest fraudsters move on from bank to bank over time, Ms Thompson said during a press conference at the Criminal Detective Unit.
Fraudsters have been using one of two types of devices to steal information: a fake overlay device or a deep insert skimming device. Both are used along with a hidden camera that captures pin numbers. Stolen information is then used to create duplicate cards with which money from a person's account can be drained.
"One device is a fake overlay where they create a fake overlay to put over the mouthpiece of the ATM with a card reader that captures the magnetic strip and information of customers using the machine," Ms Thompson said, adding that a "deep insert skimming device" is "inserted deep in the ATM machine by the fraudsters. As people use their cards that device captures the data of their magnetic strip."
The suspects in the crime do not appear to be Bahamians, Ms Thompson said.
They have been caught on surveillance cameras installing devices on machines between 10pm and 3am.
They are partly distinguished by their clothing, wearing hooded jackets, baseball caps and sunglasses despite the summer weather.
They often have multiple cards at ATM machines, a sign of probable criminal activity, Ms Thompson said.

This isn't the first time the country has been affected by skimming fraud.
At least two suspects remain at large from cases that go back to 2014.
Based on past experiences, Ms Thompson said she expects fraudsters to use the stolen information to make transactions within a week after capturing the information. Their period of operation is usually about a month. Fraudsters have been known to withdraw funds locally and in other jurisdictions.
"We want the public to be aware of their surroundings when using machines," Ms Thompson said. "Shake the mouthpiece of the ATM. If it's easily detached or rattled or appears to be tampered with, don't use the machine. Notify the bank and the police department. If suspicious people are lurking around a machine, be aware and don't use that machine. Protect your pin as you enter the code into the machines."
Banks investigate suspected fraud and victims could expect to get their money back, Ms Thompson said.