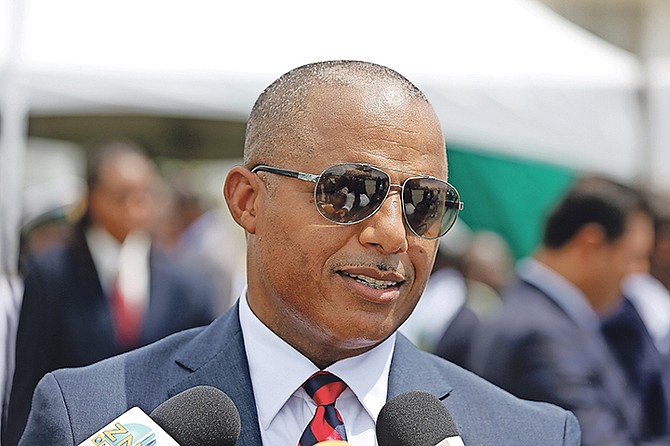 By RICARDO WELLS
Tribune Staff Reporter
rwells@tribunemedia.net
NATIONAL Security Minister Marvin Dames over the weekend continued to downplay the noticeable absence of Police Commissioner Ellison Greenslade amid reports that he has been asked to step down from the post.
Commissioner Greenslade was a no-show during a press briefing at the Paul Farquharson Conference Centre at police headquarters on Saturday, where Mr Dames, with the senior command of the Royal Bahamas Police Force presented several new crime strategies.
Throughout the briefing, Mr Dames insinuated that Commissioner Greenslade was present for the planning and review part of the conclave earlier in the day.
However, at the time of the press briefing, he had already left the property.
When asked about the absence, Mr Dames insisted that there was no reason for concern, adding that Mr Greenslade continues to operate in the post of commissioner on a day-to-day basis.
When pressed by The Tribune on the matter, he responded: "He (Commissioner Greenslade) was here this (Saturday) morning. He was here to my meeting and he participated. This was a sudden meeting, so sometimes people have commitments, but critical part of this happened earlier this morning."
Mr Dames continued: "I am satisfied now that after having met with Commissioner Greenslade and Deputy Commissioner (Anthony) Ferguson; the other executive team members, as well as the divisional commanders. Often when we speak to these issues you don't hear from the divisional commanders. These are the critical individuals who command the police stations throughout New Providence. They have to be at the forefront."
In mid-July, The Tribune reported that plans are in place to promote Deputy Commissioner Anthony Ferguson to the top post, contingent on Commissioner Greenslade accepting the post of high commissioner to London.
It was also reported that Deputy Commissioner Emrick Seymour, now in charge of Freeport, will be transferred to Nassau as deputy commissioner.
In the weeks since these reports first surfaced, Commissioner Greenslade has remained out of the spotlight.
Earlier this month, Mr Dames told reporters he was in the "business of governing", as he sidestepped questions on Commissioner Greenslade's future.
Commissioner Greenslade was appointed the sixth commissioner of police on January 4, 2010, after serving as the acting deputy commissioner of police from January 1, 2009, upon completion of a one year training initiative with the Royal Canadian Mounted Police in Canada.
Mr Dames also took part in this training in Canada when he was a member of the RBPF.
In January 2009, Mr Dames, then senior assistant commissioner of police, was appointed commander for Grand Bahama. Mr Dames was later promoted to deputy commissioner while Commissioner Greenslade ascended to the RBPF's top post.
Mr Dames quit the RBPF in May 2011 to take up a post at the Baha Mar resort.
He won the Mount Moriah seat in the House of Assembly in the May 10 general election.