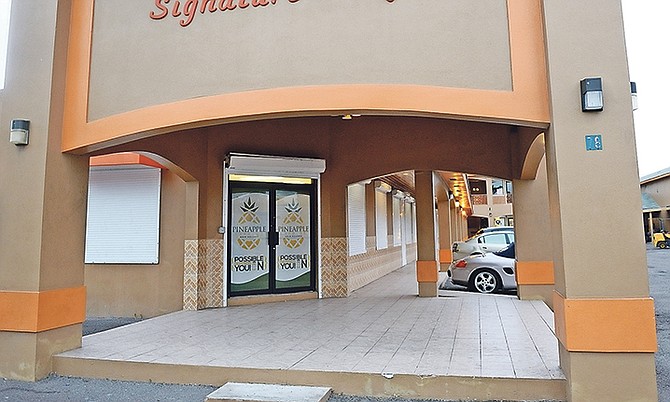 By SANCHESKA DORSETT
Tribune Staff Reporter
Sdorsett@tribunemedia.net
THE Securities Commission has warned the public that local "asue" business Pineapple Express Asue Holders should be viewed as "unsafe and very high risk" and advised members of the public to "exercise extreme caution when considering to engage with this entity or persons soliciting membership."
The commission said the methods used by Pineapple Express is structured like a "pyramid or Ponzi scheme" where promoters claim they can turn a small investment into large profits within a short period of time. The statement urged anyone with concerns about the company to contact police.
Hundreds of Bahamians have now been left in limbo after the business temporarily closed its doors following a meeting with government officials earlier this week.
Pineapple Express, according to their Facebook page, is an asue holders company "dedicated to helping persons thrive financially."
The Tribune understands that on Monday, the company, after being unable to pay out several "hands" or disbursements to customers was called into a meeting with the Securities Commission.
In order to join the "asue," persons are required to pay a one-time fee of $200 and receive $1,050 or pay $100 and receive $540. Participants are also required to pay a $25 membership fee. Persons are also required to pay a $25 processing fee each time they rejoin for a payout. After signing up, persons receive a payout in "around 14 business days."
"In reality, participants make money solely by recruiting new participants into the programme. The scheme gathers momentum until it crashes," the Securities Commission said.
"Fraudsters behind these schemes typically go to great lengths to make their programmes appear to be legitimate multi-level marketing schemes, but the schemes eventually fall apart when it becomes impossible to recruit new participants, which can happen quickly…Ponzi and pyramid schemes are very harmful to the unsuspecting public as invariably, any payouts for all people joining these schemes depend solely on what comes from the people who join afterward. So, without new investors, money for payouts very soon becomes insufficient. Therefore, under no circumstance are these schemes to be viewed as bona fide investment programmes as they tend by nature to involve fraud.
"The commission hereby advises that the activity of Pineapple Express, its agents or consultants should be viewed as very high risk and unsafe. Therefore members of the public are advised to exercise extreme caution when considering to engage with this entity or persons soliciting on behalf of this entity. Persons who decide to do so, do it at their own risk. Anyone who is concerned about having transacted with the above named company, their agents or their consultants, should contact the police," the commission added.
According to Pineapple Express' Facebook page, several hundred persons were able to receive payouts before the company experienced difficulties.
On Monday evening, Pineapple Express executives met with members at the Breezes Resort to discuss the way forward.
Hours before the meeting, the company posted that they would be closed on Monday, August 21, and reopen for business on Tuesday, August 22.
However on Tuesday, they remained closed and asked anyone with questions or concerns to send them a message on Facebook.
Shortly before midnight, the company issued a statement saying government officials and authorities have "asked them not to open."
"We will not resume operations until a new system is in place," the company's statement noted. "We understand fully that this process can take longer than we anticipated and so we are willing to refund members but there will be a process.
"Members will be contacted in groups based on the dates they joined to schedule times to receive their refunds. We are truly sorry and apologise for the inconvenience," Pineapple Express added.
Many persons have described the business as a "pyramid scheme," similar "loom" phenomenon, which became popular in the Bahamas several months ago.
In January, the Securities Commission announced that looms are fraudulent pyramid schemes.
In the loom scheme, persons were asked to join groups and contribute small sums of money to get a larger payout, for instance $100 with the promise of getting $800.
Despite the issues and concerns with Pineapple Express, an overwhelming number of persons have decided not to request their money back and instead "trust" that the company will reopen.
Under the company's statement on Facebook one person wrote: "Why go to the bank for money for back to school when we could go to Pineapple? Their hands are being forced by the government. This is truly for the poor people. Think out of the box."
Another member said: "Until I see a post saying 'sorry guys, this failed' then I will get my money back, until then I will chill. The dream is still alive, they are just looking for a better way to assist us."
Other persons, however, were not as forgiving.
One person wrote: "Please try hard give me my money back. I been messaging for weeks now and cannot get a response. Please do not go missing with my money. I knew this was too good to be true, I should have known better (sic)."
The Tribune attempted to contact Pineapple Express but calls were not returned up to press time.