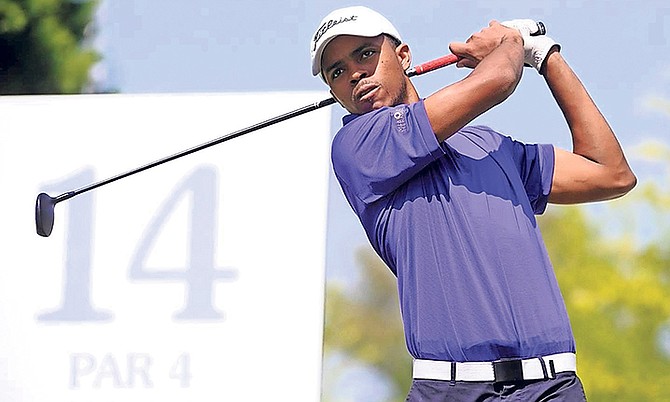 By BRENT STUBBS
Senior Sports Reporter
bstubbs@tribunemedia.net
AFTER turning in a sub-par performance as the leading member of the Bahamas' team at the Caribbean Amateur Golf Championships, Devaughn Robinson is back in the United States where he's taking his individual game to another level.
At the US Mid-Amateur Qualifying in Houston, Texas, August 21 at the Woodlands Country Club, Robinson shot a one-under-par 71 to finish in sixth place, earning the rights to play in the US Mid Amateur Championships, scheduled for October 7-12 at the Capital Country Club in Atlanta, Georgia.
"I feel extremely honoured and excited, but at the same time very humbled to be the first to play in this prestigious event," said Robinson, who will break ground as the first Bahamian to achieve the feat.
The 29-year-old mechanical designer for Valco Instruments, a mid-sized manufacturing company, said he intends to go to the venue in Atlanta to ensure that he's physically prepared to compete on the golf course.
Looking back at his performance, which was just one stroke shy of joining four others in a tie for second at 70 and three off the leader at 69, Robinson was pleased with how he survived the round.
"The qualifier did not start as planned," he said. "I felt very comfortable with my game and strategy, but a few misfortunes early put me in a very difficult spot going into the back nine.
"I got into a different mindset on the back nine knowing it was do or die and I played some of the best golf I've ever played under the circumstances."
In the end, Robinson came through with birdies on four of his last six holes to secure his berth in Atlanta. "I plan on maintaining the same routine that I've been working on these past few months and narrowing my focus," said Robinson as he looks ahead to the tournament.
Coming of the Caribbean Amateur Golf Championships that was held in the Dominican Republic from July 30-August 5 where he shots rounds of 75-75-70-74 for a total of 294, Robinson said he learned a lot during that week of competition.
"I'd grade my performance in the Caribbean Amateur as a C+," he said. "I felt great about my game going into it, but probably not hungry enough once IU actually got to playing."
And from that experience and his performance in Houston, Robinson pinpoints exactly what he needs to work on to improve his game.
"I need to work on my short game, mainly outing," he said. "I've been inconsistent lately, but steadily improving."
Hopefully, he will do it in Atlanta.