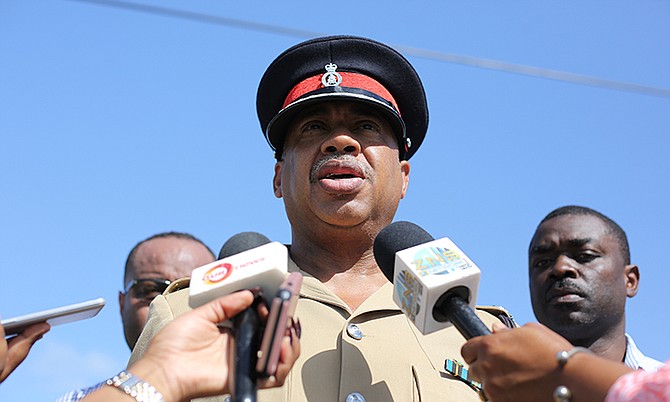 By SANCHESKA DORSETT
Tribune Staff Reporter
sdorsett@tribunemedia.net
POLICE are urging members of the public to report instances of suspected fraud after several alleged "asue" companies have been accused of scamming persons out of thousands of dollars.
In an interview with The Tribune, Assistant Commissioner of Police Clayton Fernander said as far as he knows, the Central Detective Unit (CDU) has not received any official complaints regarding theft and fraud despite seeing several accusations on social media.
His comments came as nearly a dozen persons contacted The Tribune on Thursday over concerns about a company called Golden Chess Asue Holders.
The calls came one day after this newspaper reported a warning from the Securities Commission advising the public that local "asue" business Pineapple Express Asue Holders should be viewed as "unsafe and very high risk." The commission also advised members of the public to "exercise extreme caution when considering to engage with this entity or persons soliciting membership."
The commission said the methods used by Pineapple Express is structured like a "pyramid or Ponzi scheme" where promoters claim they can turn a small investment into large profits within a short period of time. The statement urged anyone with concerns about the company to contact police.
Golden Chess, similar to Pineapple Express, promised persons a "big payout for a small investment."
In order to join, persons were required to pay a one-time fee of $85 and receive $800 or pay $170 and receive $1,500. Persons were also required to pay a $20 membership fee. After signing up, a member was supposed to receive a payout in about "14 business days."
However, The Tribune understands after collecting money from persons interested in the scheme, Golden Chess allegedly shut down without paying anyone the money promised or without issuing refunds.
On the company's Facebook page, representatives from Golden Chess claimed that two persons stole the money and as a consequence they were unable to continue business. The post claimed that the alleged theft was reported to CDU and the persons responsible were being sought by police in connection with stealing by reason of employment.
However, ACP Fernander said CDU never received a report from Golden Chess in reference to theft and police are not currently searching for anyone in reference to the matter.
In an interview with The Tribune, a former employee of Golden Chess, who asked not to be named, alleged she was scammed by the company twice, once when she invested her money into the company and then when she agreed to work for them and allegedly never got paid.
"I went to carry my money to a house on Carmichael Road with some members of my family and there was a lady there who said they needed drivers. At the time, I was pregnant and said I could work for them for a few weeks to get some extra money," the former employee said.
"On my first day, I worked from 7am to almost midnight collecting money for the company and having people fill out the forms - that day I collected nearly $5,000. When I got home, the persons came to the house and got the money from me. I never had it overnight.
"The next day on Monday, I went back on the road and collected some more money but that was the day everything fell apart and so I was able to return the money I collected from persons that day but the persons who gave the money to me on Sunday, it was already gone. I just want persons to know that it wasn't me that (took the cash), I got ripped off too," she claimed.
"I was just an employee. That's it. I really thought this was a real job and straight forward and legit. They asked me for my passport and my NIB card and everything. I never got paid. I went to CDU to report what happened and they told us that it was a civil matter and they did not even take my statement," the former employee said. 
Another woman, who claims she was also scammed but wanted to remain anonymous, shared a similar story.
"So about two Saturdays ago I went to a house on Carmichael Road and paid my money and signed up. They told me to come back the following Monday to get a membership card and in 14 days I would receive my payment of $1,500," she said.
"So on Monday, when I was going to get the card I saw online they posted a thing about these persons running away with the money and so they said they can't pay out any funds. Turns out these people never went to the police and reported any stolen money, it's like they just took our money and shut down. One girl started giving people a portion of their money back out of her pocket but most people got nothing. This cannot be right. I didn't know it was an (alleged) scam, I felt confident in the fact that it was a new company and I trusted they would not steal people's hard-earned money because people are getting killed in Nassau for less."
ACP Fernander is urging members of the public who feel they were scammed to speak with the police.
"Currently we don't have any complaints so there is nothing we can do if people do not come forward," ACP Fernander said.
"If these people come to us we will investigate and see if there is anything there we can do with respect to the law. If they have a complaint, come let's sit down and talk and we will determine whether it is a civil matter or not. I would rather people come to us than to take matters into their own hands."