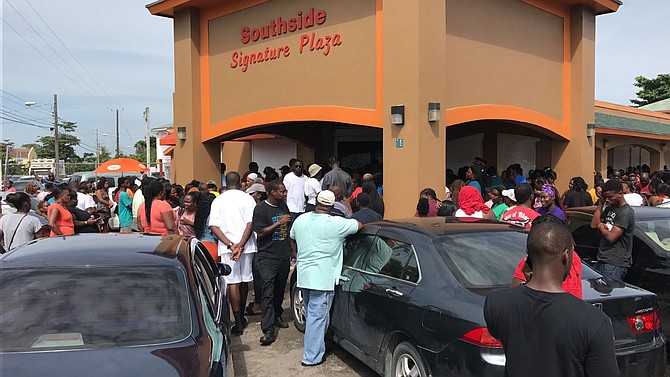 http://youtu.be/9ver7dq9mzY
By SANCHESKA DORSETT
Tribune Staff Reporter
Sdorsett@tribunemedia.net
CHAOS erupted at Pineapple Express Asue Holders office off Cowpen Road early Friday morning after hundreds of angry persons stormed the building in an attempt to collect money owed to them.
When The Tribune arrived on the scene shortly after 8am, scores of persons had already gathered outside the office, which was still closed.
Nearly a dozen Royal Bahamas Police Force Officers attached to the Central Detective Unit and the K-9 Unit attempted to organize the madness but their efforts were in vain.
On Wednesday, the Securities Commission warned the public that local "asue" business Pineapple Express Asue Holders should be viewed as "unsafe and very high risk" and advised members of the public to "exercise extreme caution when considering to engage with this entity or persons soliciting membership."
The commission said the methods used by Pineapple Express is structured like a "pyramid or Ponzi scheme" where promoters claim they can turn a small investment into large profits within a short period of time.
The statement urged anyone with concerns about the company to contact police.
On Monday, the company, after being unable to pay out several "hands" or disbursements to customers was called into a meeting with the Securities Commission.
In order to join the "asue," persons are required to pay a one-time fee of $200 and receive $1,050 or pay $100 and receive $540. Participants are also required to pay a $25 membership fee. Persons are also required to pay a $25 processing fee each time they rejoin for a payout. After signing up, persons receive a payout in "around 14 business days."
On Monday, Pineapple Express executives met with members at the Breezes Resort to discuss the way forward.
Hours before the meeting, the company posted that they would be closed on Monday, August 21, and reopen for business on Tuesday, August 22.
However on Tuesday, they remained closed and asked anyone with questions or concerns to send them a message on Facebook.
Shortly before midnight, the company issued a statement saying government officials and authorities have "asked them not to open" and that they would issue refunds to customers between 10am and 1pm on Friday.
Several hundred people gathered at the headquarters only to be told by police, shorty after 10am, that no one was coming to issue refunds and the owner of the property wanted "the crowd" off his premises.
In fact, the owner began towing vehicles off the sidewalks and from parking spots in the plaza in order to free up space for customers in the surrounding shops.
Despite being asked to leave, the crowd refused to disperse. Shortly after 11am, officers told the group that a representative from the company was on the way but everyone had to get in one line.
Payouts began around 11.30am and several persons told The Tribune that they were fully reimbursed.
Raquel Bowe, 34, said she joined the "asue" because she is unemployed and needed money. Despite not being able to receive the "hand" she was promised, Ms Bowe said she would join a scheme like this again.
"I really thought this was going to work, the lady seemed sincere. After she couldn't pay she called a meeting and in the meeting she said she overwhelmed herself by collecting too much applicants each day and because of that she is going to have to restructure," Ms Bowe said.
"I believe this is ridiculous today, I didn't have to go through this to give them my money but I have to wait with all these people to get my money. People are hurting and we invested our money with plans to get the money they promised.
Ms Bowe said: "I am not employed and I need my funds. As a matter of fact I already purchased a plane ticket with the anticipation of getting this money to go away. I have a friend that has children that she wanted to get ready for school for Monday but now she can't do that, next time I will join sooner."
Shanika Longley, 42, said she received one "draw" several weeks ago and paid another $300 for another "draw" which she hasn't received. She also said she would join this type of "asue" again.
"I put $300 and I got $1590 and I reinvested $300 and they are telling me persons who reinvested won't get their money back. I don't think this was a scam, her intentions were very good she just got overwhelmed," Mrs Longley said.
"When it initially started it was a good process but everyone caught on to it and she kept taking and taking and it was hard to pay people back. I don't think these people will get their money back, she just doesn't have it and taking it to court don't make no sense.
"I would do this again," Mrs Longley said, "I benefitted. Persons gambling and losing money, everything in life you do is a gamble."
Many persons have described the business as a "pyramid scheme", similar to the "loom" phenomenon, which became popular in the Bahamas several months ago.
In January, the Securities Commission announced that looms are fraudulent pyramid schemes.
In the loom scheme, persons were asked to join groups and contribute small sums of money to get a larger payout, for instance $100 with the promise of getting $800.
The Tribune attempted to contact Pineapple Express but calls were not returned up to press time.
http://youtu.be/wuiRYdUywqo