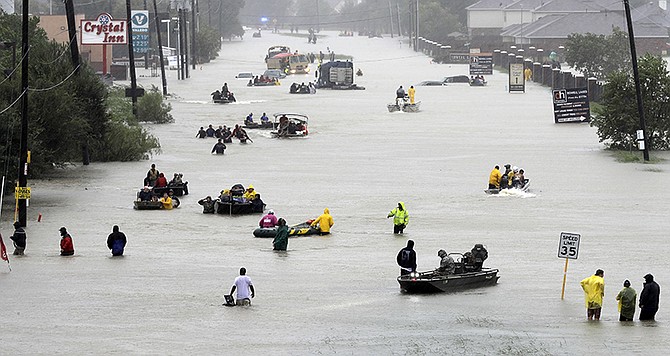 By RICARDO WELLS
Tribune Staff Reporter
rwells@tribunemedia.net
AT least one Bahamian woman was displaced from her home due to flooding in Texas from Hurricane Harvey, Minister of Foreign Affairs Darren Henfield said yesterday.
He added officials in the capital have been notified that all Bahamians, reported to be in Houston during the passage of Hurricane Harvey, are "safe and accounted for".
As a massive category-four storm, Harvey made landfall in southern Texas on Friday night, slamming the state's coastal areas with 15 to 25 inches of rainfall, and up to 50 inches further inland.
Up to press time on Monday, at least five deaths and more than a dozen injuries were reported in the aftermath of the weather system, which is now a tropical storm.
Mr Henfield told The Tribune that he had been in contact with Lynden Rose, honorary counsel in Houston, throughout the weekend and received reports that all 100 students in the city during Harvey are doing well after the storm.
"We have received the best news possible," he stated. "We've heard from our students here, from Texas Southern, the University of Houston and Prairie View (A&M University), and all is well.
"One Bahamian female was displaced and is now being looked after by her family and friends, all, we've been told, Bahamian."
Mr Henfield continued: "Our prayers and thoughts are with the people of the Houston area and all of America, in this, a time of natural disaster."
According to reports in the Texas area, the effects associated with Harvey are "unprecedented", and "beyond anything experienced".
USA Today yesterday reported that more than 5,500 persons are expected to seek refuge in Houston's convention centre as a result of Harvey's fury.
The US Federal Emergency Management Agency (FEMA) has also suggested that the number could grow to as many as 30,000 persons if rainfall associated with the storm doesn't relent in the coming days.
Harvey is the fifth named storm of the 2017 Atlantic Hurricane season.