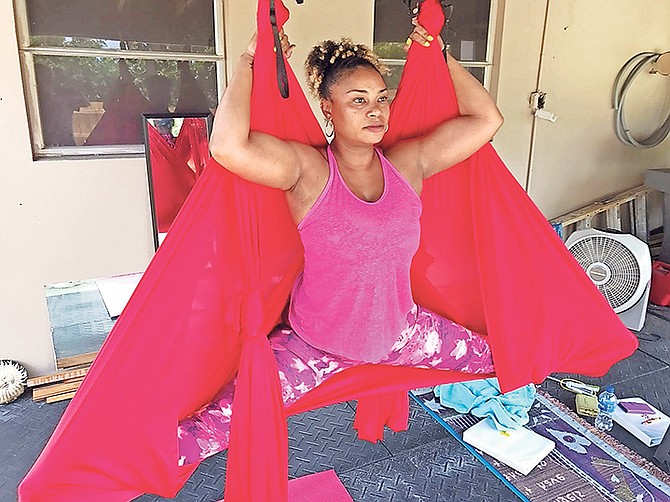 By ALESHA CADET
Tribune Features Reporter
acadet@tribunemedia.net
There are many misconceptions surrounding yoga and the people who practice it. Many wrongly believe that to do yoga you have to be the type of person who gets up and dawn and who eats a vegetarian diet; that you have to be extremely flexible and make it your entire lifestyle.
However, Nicarah White, a local yoga instructor at the Ah! Massage at The Zen Zone studio, wants to change all that. She wants to make yoga accessible to all, especially Bahamian youth.
Her goal is to one day to incorporate health and wellness practices like yoga in the country's schools and even businesses.
Yoga is a mind-body practice that combines physical poses, controlled breathing, and meditation or relaxation. Yoga brings together physical and mental disciplines that may help a person achieve peacefulness of body and mind. This can help relax and manage stress and anxiety.
"One of my main focuses is on the kids. If we start with them at a young age with healthy choices, it will be with them forever," said Ms White.
"I aim to provide a safe space for my clients to come and exercise, and know that it's not only physical, but mental as well. It took me some time to truly understand and appreciate my health and wellness, and I'm grateful to be able to share my experiences with others and offer services to others that need alternative health care and holistic remedies."
Ms White began her yoga journey while training at the Cosmosis Institute in Nassau two years ago. She also got certified in Florida in the areas of aerial yoga, and children's and family yoga.
She believes that while Bahamians in general are concerned about their physical health, most fail to pay sufficient attention to their mental well-being.
"Women are at higher risks of having stress-related issues and strokes. Which is the third leading cause of death for women. We need to make small, conscious efforts daily to strive for a healthier lifestyle. I want to continue to run a successful business as a young black woman in the Bahamas, and I would like to see more Bahamians take care of themselves and understand that yoga, massages and even mani/pedicures are not just luxuries; they are necessities. I also want to incorporate yoga in work settings, as the benefits are endless," said Ms White.
The Ah! Massage at The Zen Zone offers services ranging from massages to facials, nail services, body treatments, yoga and meditation. People are also welcome to host events at the venue located in the East Bay Shopping Centre.
"Our clients love our studio space. The ambiance alone transforms the client's physical state. We pride ourselves on professionalism, punctuation and preparation. My favourite client, Carol Edwards, she is one of the sweetest persons in this world that I know. I look up to her and her kind-hearted nature. She comes every month for her spa services and has recently started practicing yoga and meditation with me. Clients also truly appreciate our mobile services," said Ms White..
For more information contact 394-2300 or 448-4319, or visit www.ahmassagebahamas.com.