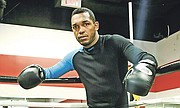 By BRENT STUBBS
Senior Sports Reporter
bstubbs@tribunemedia.net
IT didn't turn out the way Tureano 'Reno' Johnson anticipated, but he felt he gave it his all against Sergiy 'The Technician' Derevyanchenko in the International Boxing Federation's middleweight elimination bout.
Johnson, 33, was denied another chance to fight for the IBO world title when he got stopped in the last of their 12-round main event bout at the Buffalo Run Casino in Miami, Oklahoma, on Friday night.
"My preparation for this fight was a very good one, coaching and the way that it was all managed," he said. "But once you get into the ring, you have to change your game plan. Unfortunately for me, I wasn't able to adjust.
"But all in all, it was a great learning experience for me. My opponent did some things to me that haven't been done to me before in a fight, so this was definitely a good learning experience for me. But I will bounce back from this no doubt."
The loss dropped Johnson's win-loss record to 20-2 with 14 knockouts, while Derevyanchenko remained undefeated at 11-0 with 9 KO.
"It wasn't a matter of what I did, but it was a matter of what I didn't do," Johnson said. "I didn't adjust. The next time that I have an opponent, who likes to hold, we will have to look at how we adjust to an opponent like that.
"When we have an opponent who likes to do a lot of spinning around, we will learn to adjust to that. We're going to rebuild our whole fight and capitalise on things that we didn't do. We will incorporate some of the good things and improve on the bad things."
While Derevyanchenko, a 31-year-old Russian born fighter out of the Ukraine, controlled the majority of the early rounds, Johnson managed to get back into the fight in the later rounds.
That set up what came down to an all-out brawl in the final round as the winner was assured the number one spot for the IBF middleweight title shot.
"I knew I was down on the card, so I was going for broke," said Johnson about his intended slugfest with Derevyanchenko. "I said either it was him or it was me, but one of us was going down.
"Unfortunately, the knockout ended up on my end. I went in there to leave it all in the ring. You're not going to get a little bit of action from me. You're going to get all of the action.
"I'm going to give it my all. I think I gave all of the energy I had in my body, as much as my body could offer. I gave it my all."
Under the management of Oscar De La Hoya's Golden Boy Promotions since September 2015, Johnson first got an opportunity to fight for the world title when he won over Irishman Eamonn O'Kane on October 17, 2015.
With the win, he became the mandatory No.1 contender and was set to face Gennady Golovkin, the IBF, World Boxing Council and co-World Boxing Association champion.
But he suffered a severe shoulder injury in the bout and further damaged his rotator cuff. The injuries required surgery and Johnson did not fight again until he returned for a second-round knockout win against Fabiano Pena on March 23.
"It was a learning experience, but I'm still in the top 10 of the IBF contender, so I'm not out of it," he said. "I think they are considering putting me back in the top five.
"So I'm getting in shape over here in Florida, trying to get back in the ring as early as November. I am in Sheraton Town, training with Antonio Bendacutt before I go to Atlanta to continue to train."
With just one fight coming off the surgery, Johnson said it showed in his performance in the ring.
"I must say, it was very difficult being out of the ring for such a long period of time and only having one fight," he said. "It did show on Friday night how long and how painful it is to be out of the ring for so long.
"But a lot of things played into the results on Friday night and we definitely can't have that happen again. The injuries couldn't be avoided, but the doctors in the Bahamas did a tremendous job on the surgery."
Despite the loss, Johnson said he's healthy and his body is in great shape and his spirit has not been dampened, so he's just waiting on God's plans for him moving forward.
"I am just grateful to the Bahamian community at large for coming out and supporting me," he said. "The Ministry of Tourism and people physically coming out and assisting me. I've never seen this before.
"I'm going to get my shot again. If it's not the IBF, it's going to be one of the other titles. But very soon, no doubt, I will become a world champion. I wasn't 100 per cent on Friday night. That was a fight for me to win. But I'm going to win the world title very soon."