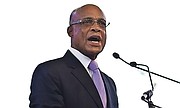 By RICARDO WELLS
Tribune Staff Reporter
rwells@tribunemedia.net
THE government has engaged a group of retired and soon to be retired educators, with the hope of contracting many of them to offset a potential shortage of about 100 teachers heading into the new academic year.
Education Minister Jeffrey Lloyd said yesterday the government has had a "great degree of success" in its attempts to invite teachers approaching or those who have reached the retirement age to consider contracted stints after formally retiring and accepting their respective gratuity and pension benefits.
The South Beach MP was responding to concerns raised over a potential shortage of teachers as public schools are set to re-open for the 2017-2018 academic year next Monday.
While Mr Lloyd speculated the public school system could see a deficit of approximately 100 teachers, he said that number could increase based on the number of teachers who reach retirement age in the coming days.
Mr Lloyd said the common practice among educators is to formally announce their plans to either retire or stay on in the month of August.
"Well, we are continuing to address the teacher shortage issue," Mr Lloyd said. "As you know, teaching as a profession is not one of the most attractive options for students coming out of high school or even college. That I expect will change."
He continued: "For any number of reasons people don't see it, though it is regarded as one of the more elegant and some describe it as the profession of professions which I absolutely agree, some don't see it as one of their first two, three or fourth choices, not to mention the first choice. That, I hope again, will change because as you know, teaching, teachers, education is the bedrock of any society.
"What we hope to do and have done and I think to a great degree of success is to invite those teachers, those educators who are approaching or have reached the retirement age, to invite them to consider (putting off) retirement for a year or two or more, so that they would be able to assist us particularly in the primary area with the understanding that they would be allowed to officially retire, get their gratuity and their pension, but to be returned on contract."
He added: "Many, I am grateful to say and I am happy to say, have accepted that particular provision. But, there is no question, we have to address this issue of perennial teacher shortage."
Earlier this month, Bahamas Union of Teachers President Belinda Wilson insisted that the recent recruitment of Cuban teachers doesn't satisfy the worrying shortage the country faces.
Mrs Wilson said she continues to be concerned about the potential shortage and how hiring and recruitment of new teachers is being outpaced by retirements.