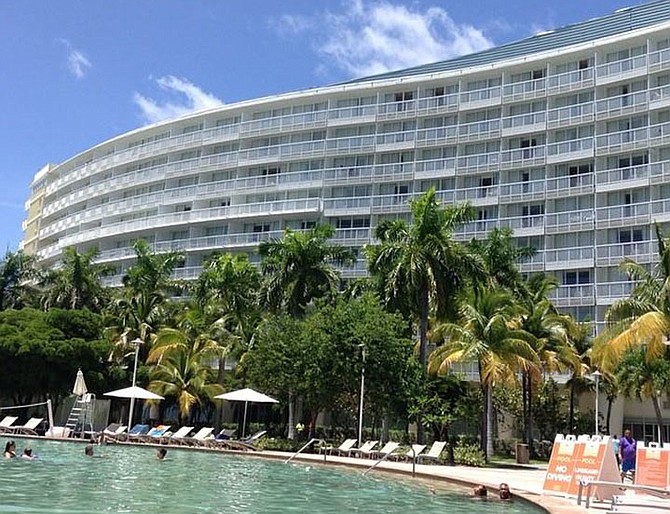 By KHRISNA VIRGIL
Deputy Chief Reporter
kvirgil@tribunemedia.net
PRESS Secretary Anthony Newbold said officials are still in talks over the Grand Lucayan Resort's sale more than a month after Prime Minister Dr Hubert Minnis revealed the government was negotiating to become temporary joint owners of the hotel in Grand Bahama.
Last month during his national address, the prime minister said the move was in a bid to boost the hotel until it can sell off its equity.
However, during his weekly press briefing yesterday, Mr Newbold said there was no update in this regard except to say talks were continuing.
He said: "Everybody is happy that those conversations have been positive conversations because you could be talking and you rowing all day.
"The conversations have been very positive and again the prime minister is committed to right that situation down there. That is why the conversations continue."
Dr Minnis at the time of his address did not give specifics about the plan and it is unclear what amount of investment the government is willing to make in the resort.
The nation's leader previously said his administration has identified "a number of integrated travel and hospitality companies that can bring quality brands to Grand Bahama but also much needed air transportation."
"The government is now involved in negotiations with the owners of the assets of Grand Lucayan in Grand Bahama and related assets for the joint ownership of those assets in partnership with a number of investors," Dr Minnis said last month.
"As was done by the United States during the 2008 Great Recession, my government's intent is to resuscitate and grow business to the Grand Lucayan as rapidly and as sustainably as possible, and thereafter sell its equity to one of the existing partners or other investors.
"We have no intention of remaining as an owner in the hotel business for any extended period of time. All signs point to the beginning or renovations at the resort within the next month with the facility ready for business for the winter season," Dr Minnis said last month.
Mr Newbold also commented yesterday on the arrests and charges brought against former politicians. He said the prime minister does not consider these distractions.
"Talking about finances, I have been asked about arrests and charges brought against various people, including politicians, some consider it a distraction," Mr Newbold said.
" . . . For the good of the country, Prime Minister Minnis has vowed to smash the cycle of corruption. The prime minister believes it is important to emphasise to the public, that anytime a person takes from BEC or from the Ministry of Works or from the (Public) Treasury, it increases the likelihood that you, Joe Public, will eventually have to pay more taxes. Why do you think we need value added tax?"