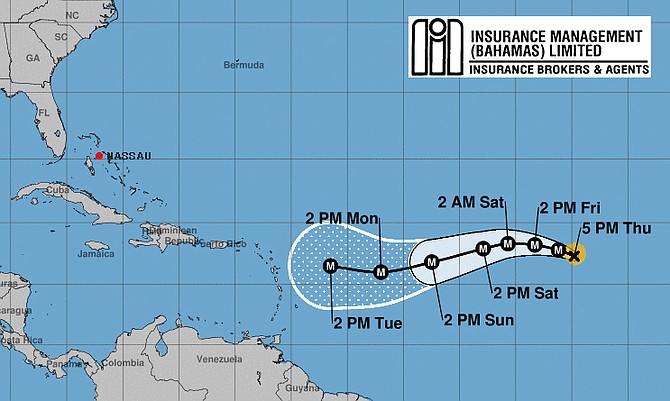 By SANCHESKA DORSETT

Tribune Staff Reporter

sdorsett@tribunemedia.net
HURRICANE Irma has rapidly developed into a Category Three hurricane and is forecast to become an "extremely dangerous" Category Four storm by next week as it moves closer to the Bahamas.
US Accuweather forecaster Dan Kottlowski, in an interview with The Tribune, said Irma has the potential to become the strongest hurricane of the season.
"Right now, Irma is 1,900 miles east of the Southern Leeward Islands and is a strong category two which is expected to develop into a category three by this afternoon or tonight (Thursday). Irma also has the potential to develop into a category four storm by Tuesday," Mr Kottlowski said.
"It is too early to see the impact it will have on the Bahamas at this point but we will know once it moves into the Lesser Antilles. At this point you do not have to worry through the weekend, if it does impact the Bahamas it will be sometime next week, we will watch and see how it is moving but no doubt this will be a very powerful hurricane and the strongest of the season. It is possible this storm will develop into category five, this storm has ramped up quickly and is intensifying quickly."
Just as Kottlowski predicted late yesterday afternoon Irma was categorised Category Three.
Local forecaster Jeffery Greene told The Tribune yesterday it is still too early to predict Irma's direct path but said current models have the storm coming near the country. Mr Greene said by next week, the Department of Meteorology will be able to say whether or not the Bahamas will be in Irma's path.
The US National Hurricane Centre said Thursday that Irma will likely become an "extremely dangerous" category four hurricane over the next several days.
"From what we are seeing, Irma is not an immediate threat but it will be a strong potential threat by next week," Mr Greene said.
"It is already a category two storm and will become a major hurricane by (next) Friday possibly by Thursday. By Monday we would know exactly what is happening. Some models have it going west toward Jamaica and curving toward us, some have it heading into the Caribbean Sea, so we aren't sure right now what will happen but we are actively following this hurricane."
Satellite imagery showed Irma with a pronounced eye Thursday, and maximum sustained winds had increased from 50 mph to 100 mph in just 24 hours ending late Thursday morning.
For the next five days, Irma will move westward and then turn west-southwest on the south side of a ridge of high pressure called the Bermuda high, which is centred in the central Atlantic.
Irma will move through a portion of the Atlantic Ocean where upper-level winds are favourable for intensification the next few days, according to Weather.com.
This is the first time the name Irma has been used for an Atlantic tropical storm or hurricane. Irma replaced the name Irene after it was retired for the damage it caused in the Bahamas and the US during the 2011 hurricane season.