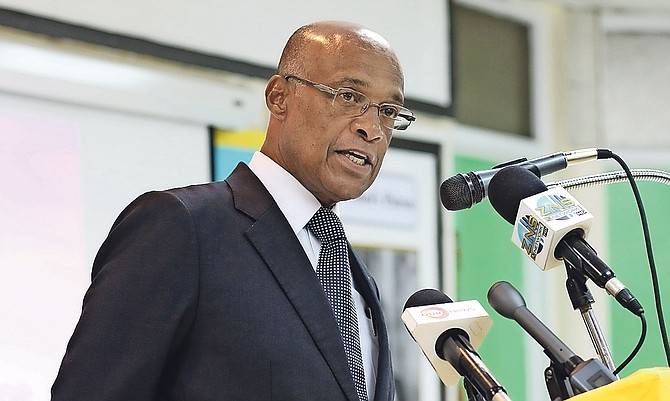 By DENISE MAYCOCK
Tribune Freeport Reporter
dmaycock@tribunemedia.net
EDUCATION Minister Jeff Lloyd toured schools on Grand Bahama and delivered a powerful and inspirational address to hundreds of teachers as they prepare to return to their classrooms next Monday.
At the Ministry of Education's annual Teachers' Enrichment Day at the Jack Hayward High School gymnasium on Wednesday morning, Mr Lloyd did not mince his words and told educators they can't afford to rest on their laurels while the national exam results remain at a D average.
"For the last ten years or more, the BGCSE results have shown not (any) improvement; we started out with a D, we are still at a D – something is wrong," said Mr Lloyd.
"There is no way to camouflage it; there is no way to excuse it; something is wrong, and we must fix it."
Mr Lloyd stressed that the only way to fix the problem is to go back to the beginning and start with the pre-schoolers.
"We will start over - we are going back to the infants," he said.
Referring to a study by the Inter-American Development Bank, the education minister noted that the report indicated that pre-schoolers in Latin American and the Caribbean regions know fewer words and have less cognitive ability than their peers in the developed nations.
The IDB released the flagship study in 2017 which stated that the average Latin American and Caribbean student is more than one year behind what is expected based on the region's level of economic development, even though the region spends on average about the same percentage of GDP on education and skills development as more developed nations.
Mr Lloyd said that it was further reported that the region invests far less on pre-school education (about $500 per child), in comparison (to $3,500 per child) in primary school education.
"We are failing our society," said the education minister, who added that this year "great emphasis" will be placed on two-and-a-half and three-year-olds.
Reporting that less than half of the nation's pre-schoolers are in an appropriate programme, the minister said: "We are setting up ourselves for catastrophic failure if we do not address that."
He assured them that when resources permit, the Ministry of Education is going to mandate that all two-and-a half and three-year-olds must be in a ministry approved school.
In the area of curriculum development, Minister Lloyd stressed the importance of playtime, and activities such as art, music, and drama.
"Our curriculum does not speak to life. We've taken art, music, and drama out of our curriculum. They are supposed to be essential subjects in the curriculum."
The minister told educators: "When it comes to two-and-a -half-year-olds, we are going to emphasise numeracy, literacy, oration, but more importantly cognitive skills, and social skills, and emotional skills."
He also stressed the importance of technology in education delivery.
During his visit to a primary school in Grand Bahama, Mr Lloyd was surprised to learn that there was no Wi-Fi available at the campus.
"I just came from Maurice Moore (Primary), and I asked the principal if there was Wi-Fi. She told me 'no.' No Wi-Fi? It will be addressed; there will be technology in our education delivery throughout our country," he said.
There were also new appointments at the Ministry of Education. Mary Russell has been appointed district superintendent; former principal of Jack Hayward High School Yvonne Ward was appointed district superintendent of schools in the east, and former Eight Mile Rock High School principal Ivan Butler was appointed district superintendent of schools in the west. Ms Mary Cooper, who has served as district superintendent at Ministry of Education in Freeport for many years, is retiring and was recognised.