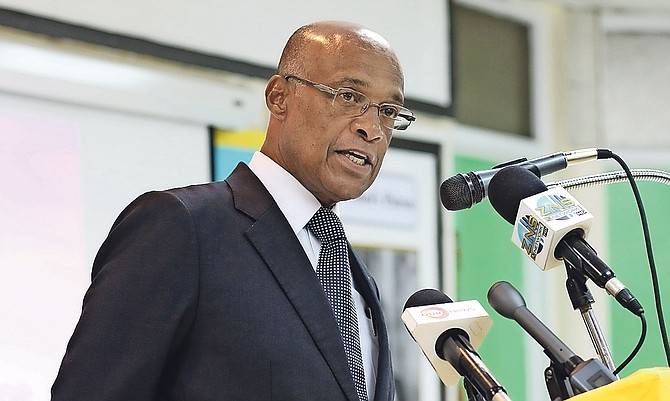 Jeff Lloyd, Minister of Education. Photo: Terrel W. Carey/Tribune Staff

Stories this photo appears in:

EDUCATION officials are in the process of updating the ministry's infectious disease protocol to direct anyone experiencing respiratory illness symptoms to remain at home until they are cleared by a medical facility.

EDUCATION Minister Jeffrey Lloyd yesterday revealed the government has decided to bring an end to the contract worker system by the end of the next fiscal year.He told media at Cabinet his ministry is conducting an audit of contract workers to get a

EDUCATION Minister Jeff Lloyd, in a speech on Friday, reiterated that full-time enrolment in the Bahamas Technical and Vocational Institute will be free this September.

EDUCATION Minister Jeff Lloyd proclaimed yesterday threats of an election loss will not impede the government from making "gutsy" decisions, insisting he would put saving the country ahead of risking defeat at the polls.

EDUCATION Minister Jeffrey Lloyd flagged the government's expanded focus on early childhood education and technical and vocational training, as he reaffirmed the nation's commitment to the achievement of the UN's 2030 Sustainable Development Agenda.

IT remains unclear how many Dominican students are expected to temporarily move to the Bahamas, with Education Minister Jeffery Lloyd yesterday suggesting only "about four, maybe five" have expressed an interest in accepting the Minnis administration's offer to relocate.

POINTING to a "decided drop" in school enrolment over the last three years, Education Minister Jeff Lloyd yesterday stressed that the impact of the country's immigration policy on public services had the potential of creating "fatal" consequences, and a serious threat to the country's national security.

EDUCATION Minister Jeff Lloyd toured schools on Grand Bahama and delivered a powerful and inspirational address to hundreds of teachers as they prepare to return to their classrooms next Monday.