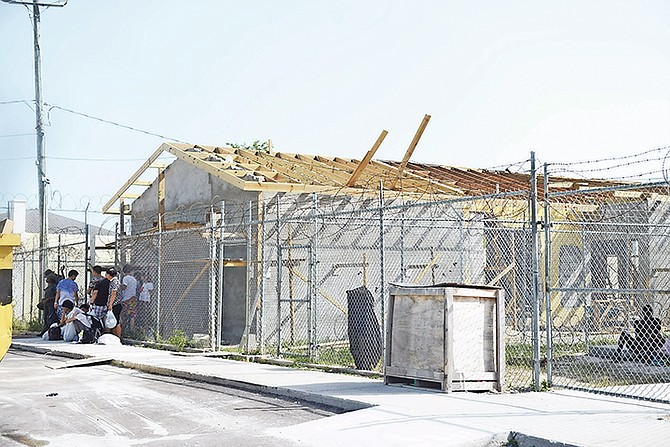 By AVA TURNQUEST
Tribune Chief Reporter
aturnquest@tribunemedia.net
A 34-year-old man born in The Bahamas is petitioning the courts over the lawfulness of his detention of some three months at the Carmichael Road Detention Centre.
Jean-Rony Jean-Charles was arrested in early September by immigration officers, according to his sister Clotilde Jean-Charles' affidavit, which alleges her brother has never left the country.
In her affidavit, Ms Jean-Charles characterises her brother's detention as unconstitutional and unlawful, noting he has not committed any offence under the Immigration Act.
Ms Jean-Charles further claims she has taken documents proving his birth to the Department of Immigration at the request of officials, only to be told repeatedly the matter was under investigation.
She wrote the family was recently advised by a 'Ms Rolle' of the department's Enforcement Unit that the documents submitted for Mr Jean-Charles could not be found.
"It is now almost 12 weeks since he was illegally arrested and falsely imprisoned," the affidavit read.
"He has not been charged with any offence in any court. He has not been given bail. He has not been taken before any court in the Bahamas. He has not been served with a deportation order. He has not been charged with any criminal offence.
"Despite numerous attempts by me and his family to secure his release, he is still unlawfully imprisoned by the Department of Immigration in contravention of the Constitution and the Criminal Procedure Code Act. I am advised by counsel to Jean-Rony that the respondents are not entitled by law or otherwise to falsely arrest and falsely imprison Jean-Rony.
"Jean-Rony's imprisonment is unconstitutional and unlawful."
The applications for habeas corpus writs were filed in the Supreme Court against the attorney general, minister of immigration, director of immigration, and superintendent of the Carmichael Road Detention Centre on November 29.
Mr Jean-Charles is represented by Fred Smith, QC, of Callenders & Co.
The application is one of scores of writs filed this year against detentions at the Carmichael Road Detention Centre.
In July, four refugees who were held without charge at the Carmichael Road Detention Centre for more than two years, were released by the government shortly after they filed their applications.
In separate cases, the men claimed they were never questioned by immigration officers during processing and highlighted their refugee status with the United Nations High Commissioner of Refugees (UNHCR).
This week, seven international human rights groups have expressed concerns over the impact of the government's December 31 deadline for undocumented migrants to leave the country. The groups have raised concerns about how this would affect children born in the Bahamas to non-Bahamian parents and the compliance of state deportation procedures with international law.
In a joint statement, the signatory organisations urged the government to share a written policy on migration, which they noted should be human-rights based with detention used only as a last resort.
Signatories include: Amnesty International; Caribbean Institute for Human Rights; Centre for Justice and International Law (CEJIL); Centro para la Observación Migratoria y el Desarrollo Social en el Caribe (Observation Centre for Migration and Social Development in the Caribbean, OBMICA); The Institute on Race, Equality, and Human Rights; Robert F Kennedy Human Rights; and the Washington Office on Latin America (WOLA).
The statement read: "The signatory organisations call on the Bahamian authorities to urgently share a written human rights-based migration policy that uses detention only as a measure of last resort; includes details of the processes available to those who wish to regularize their status; screening processes to avoid the expulsion of individuals born in the Bahamas with a right to Bahamian nationality; and processes to assess asylum claims with all procedural safeguards."
It continued: "We remind the Bahamian authorities that in accordance with international standards, any deportation procedures must ensure individual assessments of each case, provide individuals with deportation orders in writing, and safeguard the right of individuals to challenge their deportation order before an independent court of law."
The Immigration Act also calls for similar processing before the courts before a person is deported; however, officials have explained this process would severely backlog operations due to the high volume of irregular migrants.