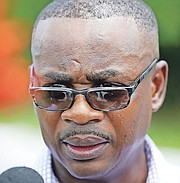 By RICARDO WELLS
Tribune Staff Reporter
rwells@tribunemedia.net
A 68-year-old woman pedestrian is among six dead as a result of four separate traffic fatalities in New Providence, Grand Bahama and Abaco over the weekend.
Shortly after 6pm Sunday, police said they were on the scene of a traffic fatality near a race track close to Government High School. Information was scant up to press time, however police said two persons died as a result of that incident. 
Earlier, around 1am Sunday, officers in Nassau responding to calls of a fatal accident on the Eastern Road arrived to discover the lifeless body of a man inside a Nissan Tilda, registration number AJ8963, that had collided with a pole.
Preliminary investigations revealed that the deceased, the lone occupant of the vehicle, lost control of the car while travelling east near Johnson Road.
In another incident, shortly before 9am Saturday, police in Grand Bahama were called to a traffic accident that occurred on Frobisher Drive and Hearne Lane, involving a white 2006 Ford F-150 truck and a 68-year-old pedestrian. 
The woman pedestrian was taken to the Rand Memorial Hospital by EMS where she later died from her injuries.
In the final incident, shortly before midnight Saturday, police in Abaco were called to a traffic accident on Forest Drive, Murphy Town, involving a black Nissan Silvia vehicle with three male passengers and a white 2003 Suzuki van with a lone male driver. 
Police said the driver of the Suzuki van and one of the passengers in the Nissan Silvia died at the scene and the other two passengers in the Nissan Silvia were airlifted to New Providence for further medical attention.
Investigations into all three matters are continuing.
In light of the incidents, Assistant Superintendent Craig Stubbs, officer-in-charge of the Traffic Division, urged motorists and pedestrians to operate with extreme caution and care when traversing streets across the country.
ASP Stubbs said his office has recognised an increase in traffic infractions, many of which can lead to major accidents.
He told The Tribune: "We are encouraging all forms of responsible driving. Drivers have to not only drive for themselves, but also for the persons in front of them, the persons behind them and the pedestrians that may be walking in their immediate area."
He continued: "We see the increased cell phone usage which we firmly believe is contributing to many of the accidents we are seeing. We are asking the motoring public to, if you need to take a call, please pull to the side of the street.
"We are also concerned by the consumption of alcohol by persons intending to operate motor vehicles. We ask that you not do that in any case. Have a designated driver. We ask parents who are loaning their vehicles to their kids, if you know your child may be in situations where alcohol may be consumed, say to them have a designated driver that can operate that car if from point A to point B sober. 
"We encourage those persons who are driving at night and those persons leaving work in the early morning hours after completing a hectic shift at work, if you are tired, there is no need to go on the road for a long drive.
"If you think you may be impaired or fatigued in any way, call a taxi or arrange with a nearby police station to pull in that yard a get a few hours of sleep before heading out for that long journey. These are the things that will prevent accidents. They may save your life as well as others," ASP Stubbs added.
A total of 44 people died as a result of traffic fatalities in 2016; 25 of those who died were drivers, eight were passengers, five were pedestrians, five were motorcycle riders and one was a bicyclist.