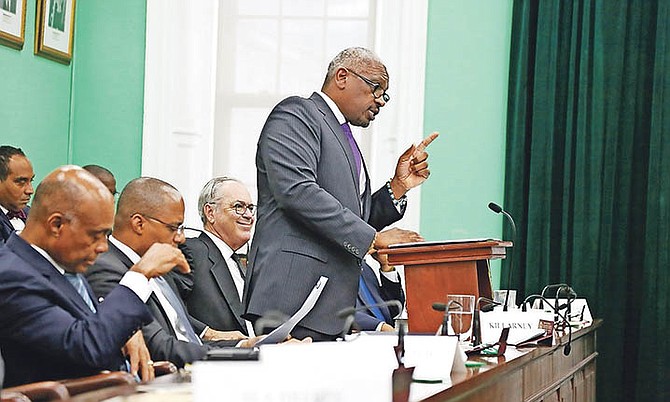 PRIME Minister Dr Hubert Minnis defended the Commercial Enterprises Bill from "naysayers," stressing yesterday the long-term objective of the bill is to ensure positions filled by work permit holders one day become available to Bahamians, once they are properly trained.
Dr Minnis also said the legislation will not bring broad changes to the country's immigration processes for anyone wishing to do business in the country, aside from the specified industries covered under the bill.
In a statement released Sunday, Dr Minnis also said limits will be placed on work permits issued under the bill. He also explained those taking advantage of concessions covered under the bill will be mandated to create training programmes for Bahamians and agree to "strict timelines" for the promotion of Bahamians in their companies.
"The Commercial Enterprises Bill is designed to attract both local and international investment to the Bahamas in job sectors that do not currently or primarily exist," Dr Minnis' statement noted. "The bill is aimed at targeting investment in specified enterprises, including captive insurance, reinsurance, arbitration, wealth management, computer programming, maritime trade, nano technology, biomedical industries, data storage, call centres and software design and writing. No other kind of business enterprise will qualify for incentives provided for under this bill."
He also said: "Industries taking advantage of this bill will be required to establish training programmes for Bahamians and agree to strict timelines for the upward mobility of Bahamians within the enterprise. Limits also will be placed on immigration permits which are issued under the provisions of this bill. The long-term objective is to ensure that all positions within these companies become available to Bahamians as and when they are trained.
"One thing this bill does not do is change the current immigration or other regulatory processes for anyone wishing to invest in businesses other than those designated industries that are covered under this new proposed legislation."
Dr Minnis said the government is making "substantial investments" in the country's educational system to ensure children receive the best education possible by attending accredited colleges and universities worldwide.
"We must therefore grow the economy and expand employment opportunities so that our students will find higher paying jobs with long term job security," he added. "It is therefore time for the naysayers to stop saying 'no' and start working on behalf of the Bahamian people.
"Creating better paying jobs that provide long term job security in new industries will motivate our young people to stay at home, which in turn will help our country grow and prosper. I am proud of this bill and I am happier with the fact that it is going to help grow our economy, expand employment opportunities, and provide Bahamian families with higher paying jobs which will lead to a better quality of life."
On Friday, Financial Services, Trade and Industry Minister Brent Symonette said the Minnis administration missed its opportunity to "properly clarify" that only investments in a handful of specified industries can qualify for concessions under the Commercial Enterprises Bill.
Pushing back against much of the criticism that has faced the bill since it was introduced, the St Anne's MP, during a presentation at the Rotary Club of East Nassau, stressed that the bill would only address operations in a set schedule of industries – areas which were also outlined by Dr Minnis on Sunday.
More like this story