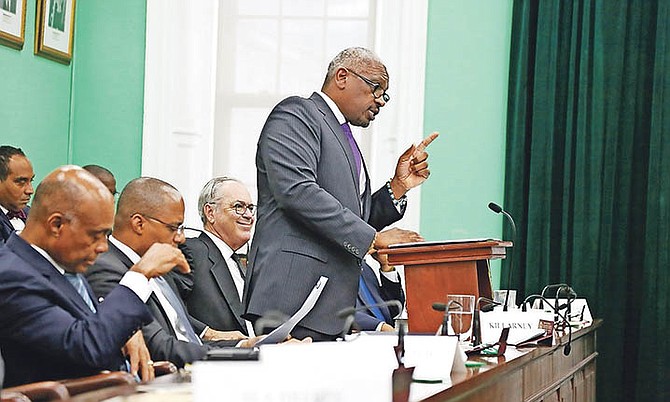 Prime Minister Dr Hubert Minnis in the House of Assembly.
Stories this photo appears in:

DAYS before the May 10 general election, the former Christie administration added an addendum to the contractual agreement of a high-ranking Bridge Authority executive outlining no fixed termination date and specifying there was to be no less than three years' notice in the event of termination, The Tribune can reveal.

PRIME Minister Dr Hubert Minnis defended the Commercial Enterprises Bill from "naysayers," stressing yesterday the long-term objective of the bill is to ensure positions filled by work permit holders one day become available to Bahamians, once they are properly trained.

LAST Thursday marked the third anniversary of the death of Pastor Dr Myles Munroe and his wife, Pastor Ruth Munroe – and The Bahamas is sorely missing the kind of leadership he embodied.

ON May 10, 2017, the Bahamian electorate voted for a much desired change. The political culture of our leaders looking after their friends, family and lovers disgusted the majority of Bahamians who voted for Prime Minister Dr. Hubert Minnis and the Free National Movement to form the current government. However, after six months it would seem as though most Bahamians are succumbing to a pervasive feeling of voter dissonance.

PRIME Minister Dr Hubert Minnis yesterday announced his administration's intention to amend the Immigration Act to allow all Bahamian women the right to automatically transfer citizenship to their children regardless of where they are born.

LAST week the country was thrown into a frenzy by another distraction from this Minnis administration; the announcement of an immigration crackdown to take place at the end of this year. Prime Minister Dr Hubert Minnis said those persons living in the Bahamas illegally have until December 31 to leave the country before immigration raids commence.

THE Minnis Administration will introduce a more advanced Anti-Corruption Bill "inclusive of Asset Confiscation and Public Disclosure" and an Integrity Commission Bill, Prime Minister Hubert Minnis said yesterday. "Political will is needed in order t