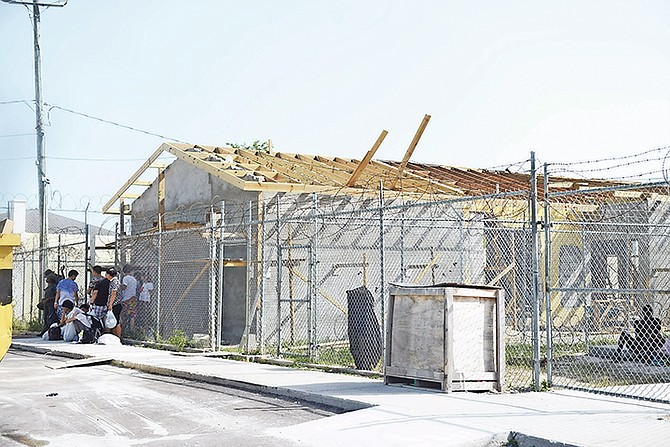 By SANCHESKA DORSETT
Tribune Staff Reporter
Sdorsett@tribunemedia.net
ATTORNEY Fred Smith, QC, was physically removed from the Detention Centre yesterday morning, after he was blocked from seeing a client and "ignored" by Department of Immigration supervisors.
In an interview after the incident, Mr Smith said he went to the Detention Centre off Carmichael Road at 10am to see his client, Jean-Rony Jean-Charles, who he said has been detained since September.
On arrival, Mr Smith said he was given the run around after first being told to wait and then instructed to "make an appointment" at the Immigration Department on Hawkins Hill in order to see the detainee.
After exchanging words with immigration officers, Mr Smith was asked to leave the property.
Videos of the altercation went viral on social media.
In one video recorded by an official on the compound, Mr Smith is seen arguing with four immigration officers, one of whom asked him to leave the property and to not film on his cell phone. Mr Smith said he is not a security threat and asked why he can't film on the compound when one officer grabbed his arm and told him to go to the main gate.
Mr Smith refused to leave and said he would have to be carried to the gate. This prompted the three officers to drag him off the property. At one point, Mr Smith breaks free of their grip and is seen tussling with the officers as they try to remove him from the property.
In another video, Mr Smith is shown shouting outside the compound's gate at immigration officers asking to speak with a supervisor.
"I'm a lawyer and I was there to see my client. He was born here at the Princess Margaret Hospital. He, like many other people, have been here for months if not years. I was there since 10am trying to see my client," Mr Smith told reporters outside the compound.
"Anyone who is in custody has the right to see their lawyer. I went to see my client, the Defence Force was very respectful and cooperative but immigration will not let me see my client. I can go to Fox Hill prison and any police station and lawyers get to see their clients, but apparently immigration is above the law and they are not responsible enough to allow people to see their clients.
"I call on the Attorney General Carl Bethel, I call on Brent Symonette, I call on the prime minister to bring immigration under control. Jean-Charles is a Bahamian, he was born in the Bahamas. He has been here since September and they will not let me see him. When I went, I was told to wait and then I was told I had to make an appointment at Hawkins Hill. I don't have to make an appointment at Central Police Station to see someone in Fox Hill Station.
"My client has a right to counsel. I was told to go and I said 'no'. Then I asked to see the supervisor in charge. Hours later, I still have not seen an immigration officer to have a responsible conversation with me about seeing my client. Immigration think they are above the law.
"I hope responsible politicians start to get this department under control. I was physically removed, grabbed by [two] immigration officers and expelled outside the gate."
When contacted, Immigration Minister Brent Symonette said no one can "just walk up to the Detention Centre" and Mr Smith knows there is protocol to be followed. He also questioned Mr Smith's real motives for going to the holding centre because Mr Smith's client is not at the facility.
"A person cannot just walk up and walk in Fred Smith knows that. We are trying to find out what happened there but since Mr Smith left, he hasn't returned. He was filming his visit and it was a clever reason he did it," Mr Symonette said.
"The officers advised me that the client he went to see is not at the Detention Centre. I am investigating that further. I was told when he was detained he had no identification and his alleged family produced a birth certificate a month afterwards. So, we are trying to verify whether he went to see this man or did not know he was not there. He sent an email out at 10.35am and I heard about it and I was not in office. He sent another email at 11.03am asking if someone from the government can help him long after the incident occurred.
"There are simple protocols that are established visiting the Detention Centre. Mr Smith is well aware of those. If he is not prepared to follow the rules, he shouldn't be surprised that he is not allowed access. This matter should not be played out in the press, it does not look good. It is not a very good way to conduct business and the people that will suffer are his clients. He has a long history of publicising his activity in the press, which I suggest he try to find other avenues to achieve what he wants to do. He has my cell and email – I don't appreciate being asked after the event to assist," Mr Symonette added.
More like this story