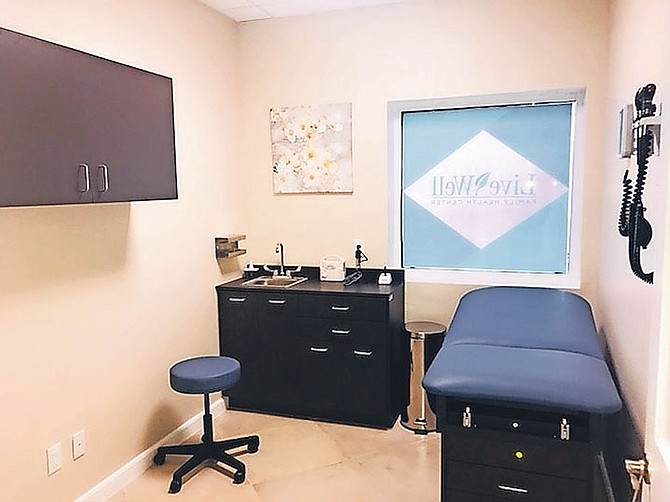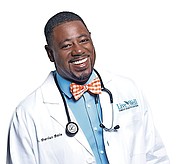 After losing his father and two siblings to a hereditary heart condition, enduring numerous setbacks, and having to work hard to be able to attend medical school, Dr Darius Bain has finally fulfilled a years-long dream by opening his own practice and wellness centre.
When Dr Bain opened the doors of his ultra-modern Live Well Family Health Centre at Sandyport on December 1, guests at the reception and clients who entered saw a smartly furnished and well-equipped facility.
Youngsters were seen in a colourful suite of their own, replete with junior-sized furniture and an underwater theme. Patients waiting for their exam found themselves smiling at the walls, fascinated by artwork that interprets the functions of the body and organs in a new, creative way.
The practice itself is expansive - a physiotherapist and occupational therapist on board; a nutritionist on call for counselling; an in-house lab with analysis capability for blood work, cell counts, cholesterol levels; EKG equipment, a resuscitation station, and overall, a focus on wellness.
Few outside his immediate family, will know the challenging path that Dr Bain travelled to get to the place where he is now, the first to occupy the new space at the northeastern end of the busy shopping and professional office complex off West Bay Street.
The fourth of five children, Darius Bain witnessed too many in his family die much too young. His father and two of his siblings died suddenly from an unusual hereditary heart condition called cardiac hypertrophy, each an instant death without warning. The discovery of this anomaly fuelled his drive to study medicine.
The day after Dr Bain graduated from college with a BSc in Medical Technology expecting to take up a job as a lab technician, he returned to Nassau. The following morning, two planes crashed into the World Trade Center and the world paused. No one was hiring.
Dr Bain, needing a job, helped a friend with an event and spent the next six months as a designer, creating flower arrangements for weddings at Sandals and Marriott. He then landed a job with Doctors Hospital West on Blake Road, worked for three years to save for one semester's tuition, and left Doctors Hospital West for medical school in Belize, where he earned a full scholarship for academic achievement.
He completed his clinical clerkship at Emory University Hospital Midtown, formerly Crawford Long Hospital, in Atlanta, Georgia, in 2008. The day he graduated, he called his father, jubilant: "Hey Daddy, I'm done. I finished." They spoke for hours. "Dad congratulated me and gave me lots of good advice," said Dr Bain. Hours later, his father died from a cardiac hypertrophy related stroke. He was 60 years old.
Dr Bain delayed doing his Board exams so he could come home to help his mother and siblings.
"You might think that it was all the illness and medical strife that led me to practice internal medicine and family medicine," said Dr Bain. "But really, medicine is what I always wanted to do. If anything, the strife and challenges just made me more resolved."
Now, says the practitioner with the smart new office and with international certification from the US and the Bahamas, he wants to help change the mindset of a nation, creating healthier habits leading to a better quality of life.
"This office is a team effort, with the support of my wife and two sons, and aims to make a difference in the Bahamas by working with individuals to take control of their own health," said Dr Bain, who now has nearly seven years of medical practice under his belt.
The Live Well Family Health Centre is open Monday to Friday, from 9 am to 5 pm, with possible weekends and longer hours in the near future.