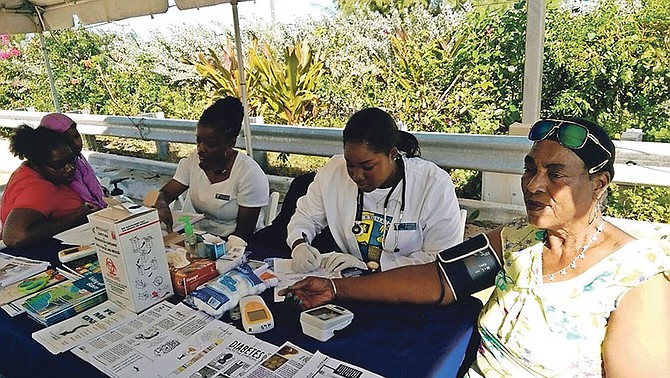 By Vanessa Smith
The Exuma Healthcare Centre, in collaboration with the Exuma Chamber of Commerce, recently hosted its second annual health fair under the theme "Embracing A Healthier You".
British naturalist John Lubbock once said: "Health is much more dependent on our habits and nutrition than on medicine."
With this idea in mind, Nursing Officer Bridgette Colebrooke said that the health fair was designed to sensitise the island's community on the importance of living a healthy lifestyle, as well as to provide a forum to inform residents and visitors alike of the services offered at the Exuma healthcare facility.
"It is a time to strengthen the alliance between local and corporate companies with the public health facility," she said.
According to the World Health Organisation, 63 per cent of deaths are caused by noncommunicable diseases like diabetes, high blood pressure, heart attacks and strokes, just to name a few. Noncommunicable diseases kill 36 million people per year and 80 per cent of these deaths occur in middle income countries.
This year, a motorcade was held to kick off the health fair, with staff parading down Queen's Highway. The fair was held on the grounds of the Exuma Healthcare Centre with booth presentations by MASA (Medical Air Services Association), BAF Financial, the Exuma branch of the Cancer Society, Aliv, Pharmaton, Variety Disposals, Medsign, Dorcas Shuttleworth's Massage & Therapy, and Fergies' Kitchen with special Herbal Teas.
Men, women and children were able to have their blood pressure and glucose levels checked, as well as receive one-on-one medical advice for improving their overall health and daily lifestyle.
The Exuma Healthcare Centre is currently managed by an executive team including Barbara Bethel, clinic administrator; the husband and wife team of Drs Ajules; nurse managers Bridgette Colebrooke and Genevieve Bowe; lab supervisor Jalna Bullard, and pharmacist Leonard Sturrup.

More like this story