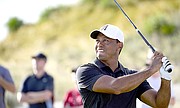 By RENALDO DORSETT
Sports Reporter
rdorsett@tribunemedia.net
TIGER Woods' path on the comeback prowl was once again the main storyline to emerge out of the Bahamas this week at Hero World Challenge.
Members of the field, including some the world's top golfers competing at the Albany Golf Course, were not only quizzed on their performances over the event but on the performance and impact of Woods' return to competitive play.
Woods, the 41-year-old 14 major champion and host of the event, made his much anticipated return from a 10-month absence and finished tied for No.9 in the field. Subsequently, his world ranking rose from 1,199th to 668th.
Reigning champion Rickie Fowler, who set a course record on day four to take the 2017 title, said his personal relationship with Woods playing courses in Jupiter, Florida, gave Fowler an advantage this year on tour.
"It's been cool to see Tiger able to be back playing at home or even here just out having fun and healthy. You could definitely say that because I got two rounds before each tournament. I think he sharpened me up a little bit.
"I've gotten a little scared of how good he was playing at home, thought I needed to start playing a little bit better or something," he said.
"But living in Jupiter, being able to play with Tiger now that he's back playing and the other guys at home, when we're home we get to practice and play with guys that we compete with. That's I think a big advantage versus playing with guys that aren't at the same level. You can get some good matches and challenge yourself when you're playing with some good amateurs, you're giving them two, three, four shots a side, but it's the real deal when you're playing against some of the best players in the world and arguably one of the best players that's ever played our game, especially when it comes to winning."
Fowler's previous win on tour this year was at the Honda Classic and he was tied for third in last year's Hero World Challenge.
Wood's finished 15th in the field in 2016 at -4 under but improved by four strokes at -8 under this year.
"Being able to see him go out and have fun again on the golf course and just play golf, you know, I would say a year ago we weren't sure if we were going to be able to see that. So him to be healthy and getting through a four-round tournament where there's no real sign of him limping or having any pain and he's able to just enjoy himself out there." Fowler said. "He may not be dialed in exactly on his numbers yet with his new added length and where he's hitting it. I think I had to tell him a couple times that it was the right club when we were home. Like I said, there's no better way than putting yourself against guys that you're going to be playing with, putting yourself in game-time situations."
With Woods in the field comes greater interest from the media and brings a wider demographic of followers to the sport.
"The better he plays, the better it is for the game. To have him out here this week and put up, was it three rounds in the 60s? I think he surprised a lot of people. I know there was a lot of people that were shocked with his distance and the control that he had," Fowler said. "Having him around, I think if he can stay healthy and have, who knows, what is it, two, three, 10 years? We don't know. If his back holds up and he keeps swinging the way he does, there's no doubt that he can't go out and win."
PGA Championship and Fed Ex Cup winner Justin Thomas was paired with Woods for several rounds.
"I just won the FedExCup, Player of the Year and all I get asked about is Tiger Woods," he joked, "It's cool. It's something I probably never thought or I hate to say dream,
but I never thought something like that would happen. It's really cool. To play with, you
know, my role model, someone I've looked up to my entire life, played twice with him this
week and this last day. I mean, obviously we both were pretty disappointed in the fact that we didn't have a chance to win the tournament. It's definitely cool, the fact that he is willing to play as much as we do or hang out as much as we do."
Thomas, like many pundits around the event, asserted that this version of Tiger's comeback is drastically different from his appearance at the Hero last year.
"He's obviously a lot more upbeat, a lot more positive, a lot healthier than he was last year at this time. It's just so weird to say that you're excited for somebody else's year, but it will be a fun year and I hope we duel it out a lot this up coming year," he said, "I'm sure he would be the first to tell you that he still has a lot to do in terms of getting back to where he wants to be, but he's definitely moving in the right direction. I think it will just take a couple, as he likes to say, a couple more reps in, a couple more tournaments to kind of get the juices going or get comfortable doing this and that against versus just going out and riding 18 holes as opposed to walking 72 holes and playing a tournament where every shot counts and makes a dig difference. I think if he stays healthy like this, I think he'll be fine."
Woods played for the first time since he withdrew from the Dubai Desert Classic on February 3 with back spasms. He had a fourth back surgery two months later and been sidelined ever since.
"Yeah, it was cool. I mean, I can't say it's surprising for how confident he seemed and how confident from how I've heard him talk to y'all and to us," said Jordan Spieth who finished tied for third, "He believes that's where he should be, so I don't think anybody should be really surprised. He's another player in this 18-person event that at the end of 72 holes you try and have the low score."
A 65 in the second round, 68 in the fourth round highlighted Woods' performance as he ended the week with 24 birdies.
He finished ahead of Thomas, Dustin Johnson who entered the event as World. No 1, US Open winner Brooks Koepka,r 24.
"It's great to have him back, great to see him competing and kind of hear the -- hear about the legend and how far he's hitting it and all that stuff," Kevin Chappell said, "But I know he's excited to be back. It's good for the game, it's definitely a good buzz to the golfing world."
More like this story