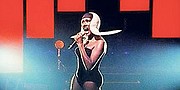 THE Bahamas International Film Festival (BIFF) has announced that iconic actress, singer, songwriter, supermodel and record producer Grace Jones will be honoured with the prestigious Career Achievement Award at this year's festival, taking place December 10-17.
Serving as the festival's most prestigious symbol of recognition, awarded in appreciation of the lifetime achievements of an actor, BIFF's Career Achievement Award will be bestowed to Ms Jones on the evening of Friday, December 15 at the Ocean Club, A Four Seasons Resort.
The announcement was made by BIFF founder and executive director Leslie Vanderpool.
In addition to receiving BIFF's Career Achievement Award, Ms Jones will present her latest film, "Grace Jones: Bloodlight and Bami" - the acclaimed documentary from director Sophie Fiennes.
"Grace's trademark charisma has fueled memorable performances for decades, but in watching her amazing body of work, the depth of her performances is unmistakable and equally as memorable," Ms Vanderpool said. "Having Grace in The Bahamas to receive the Career Achievement Award and present the highly acclaimed 'Bloodlight and Bami' is a huge honour for the festival and the audiences who will share in the experience. Grace is an legend, an icon and we are extremely thrilled to recognise her amazing career at the Bahamas International Film Festival."
Filmed over the course of a decade, the documentary, from director Ms Fiennes (The Pervert's Guide to Ideology) offers a stylish and unconventional look at the Jamaican-born model, singer, and New Wave icon.
The statuesque Jamaican model-turned-singer, actress and icon has made a career performing versions of herself. But who is the real Grace Jones behind the masks and makeup? This film moves between her personae onstage and off. Don't expect a traditional music biography with sit-down interviews and archival footage. This treatment is as stylish and unconventional as its subject. In the subtitle, "bloodlight" refers to the studio signal for recording and "bami" is a Jamaican flatbread. They stand for art and life.
Ms Fiennes has previously made films about a philosopher, a dancer, and an artist. Each time, she conjures a fresh style for the material. One of her early documentaries, "Hoover Street Revival," profiled Ms Jones' brother Noel, the Los Angeles preacher. With "Grace Jones," filmed over ten years, we gain entry to her private spaces: her family in Jamaica, in the studio with long-time collaborators Sly & Robbie, and in Paris with her one-time image maker and lover, Jean-Paul Goude. In negotiations glimpsed on camera, she demonstrates that you wouldn't want to go against her. Yet we also catch her in sweet and vulnerable moments.
Interspersed throughout the film are performances from a 2016 concert staged for Ms Fiennes' camera. Strutting the stage like an Amazon in heels, Ms Jones performs songs such as "Slave to the Rhythm," "Love is the Drug" and "Amazing Grace" with multiple costume changes. This might be the first documentary with a credit for corset designer. Whatever mysteries she conceals, one thing is for certain: we can't take our eyes off her.
BIFF will showcase more than 82 films from 28 countries, including 12 world premieres, four international premieres and 57 Caribbean premieres. All of the films will be Bahamian premieres.
BIFF 2017 takes place from December 10-13 in Harbour Island and December 14-17 in Nassau. The festival's opening night in Harbour Island will begin with a screening of Sean Baker's critically acclaimed drama "The Florida Project" starring Willem Dafoe.
The full lineup can be viewed at www.bintlfilmfest.com.