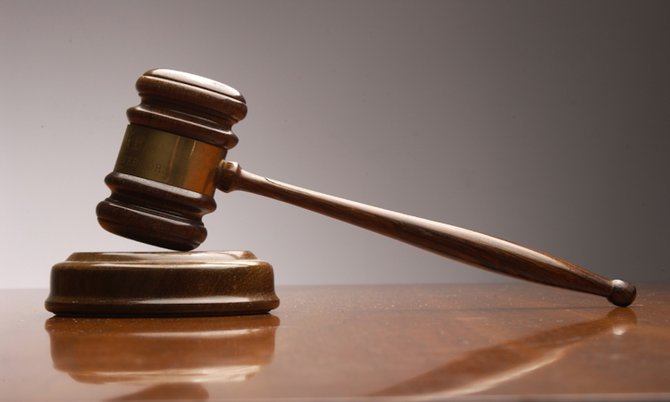 By NICO SCAVELLA
Tribune Staff Reporter
nscavella@tribunemedia.net
THE TEENAGER accused of murdering Queen's College elementary teacher Joyelle McIntosh yesterday claimed he was beaten and forced to give a false confession of his involvement in the crime. 
The teenager, taking the witness stand before Justice Bernard Turner, said a plastic bag was placed over his head and he was "forced" by officers to give a false confession. He also said he was coached on what to say when the official interview began. 
This, he claimed, occurred four to five times between November 20 and 21, 2015, while at the Central Detective Unit (CDU). He said he was taken "back and forth" between the interview room and the homicide room by officers as they forcibly tried to get him to confess to the crime. 
While in the homicide room, the teenager said he was made to lie on his stomach while handcuffed and a plastic bag was placed on his head, then subsequently asked if he was ready to confess. He said while doing so, one officer held his feet and another held his hands.
Although he originally maintained not having any knowledge of what officers were alleging, he said he ultimately gave in to avoid being beaten again. He also said he didn't tell the individuals who sat in on the interview with him—a pastor and a social services employee, that he was beaten. 
However, he said he told his mother and an attorney that he was beaten when they visited him the following day at CDU. 
"I ain't freely give that statement,"said  the teenager, whose name has been withheld because he was arraigned as a minor. "I was forced to give that." 
The teenager also claimed he did not know co-accused Johnny Mackey and Armando Sergeant before the incident. He said he only knew them in a general sense as guys from the Kemp Road area. Sergeant, he said, he only knew of as "Crow." 
Meanwhile, the teenager's mother, Bernadette Tynes, said she witnessed her son suffering from injuries on November 21, 2015, despite having no bruises or injuries when she turned him in to police the day before. 
Ms Tynes said on November 20, 2015, around 9am, she knew police were searching for her son, so she decided to look for him. She said she, along with then-MP for the area Richard Lightbourn and an individual by the name of George Symonette used Mr Lightbourn's car to do so. 
Ms Tynes said she ultimately found her son, and that she told him of her intent to turn him in. He was later surrendered to police at the Wulff Road Police Station, and once he was booked in she said she left and went home for the rest of the day. 
She said during that day she received no phone calls, and stated she did not give anyone her phone number. 
However, Ms Tynes said subsequent to a call from her son's attorney, Crystal Rolle of Murrio Ducille & Associates, on November 21, 2015, she went to CDU to visit her son. 
Upon arrival, and after officers brought her son in handcuffs to see her, she said she noticed he was limping and had a number of cuts and abrasions on his forearms, which she said were also swollen. 
She said her son had sustained an injury to one of his feet, but said she didn't actually see the injury because he was wearing black socks. However, Ms Tynes said given his limp, she knew his foot was injured in some way. 
Ms Rolle also took the witness stand yesterday, and similarly said how on November 21, 2015, the teenager "appeared different" from the way he did when she saw him at the Wulff Road Police Station the day before.
Ms Rolle said she became the teenager's attorney while at the Wulff Road Police Station on November 20. She said the teenager's older brother requested her services in representing him, which she subsequently confirmed with the teenager and his mother.
She said on November 21, 2015, she was notified by an officer at CDU concerning the teenager, and in turn contacted Ms Tynes. Given that she and Ms Tynes were headed to CDU, Ms Rolle said she was under the impression they were there to conduct the interview.
When she and Ms Tynes both arrived at CDU, however, and when the teenager was brought out, Ms Rolle said she noticed that he had bruises on his arms and his face looked swollen.
Ms Rolle said when she asked him what happened to him, he told her he was beaten, punched about the body and had a bag placed over his head. She said the teenager told her officers were trying to get him to sign things against his will.
Ms Rolle said she subsequently went to the front desk at CDU and told the officer stationed there that her client complained of being beaten and subsequently requested that he seek medical attention.
The officer's response, Ms Rolle said, was "If he requested medical attention he will get it."
Ms Rolle said she subsequently waited for a call which never came concerning the interview she had anticipated to have on November 21, 2015 and didn't see her client until his arraignment in Magistrate's Court on November 23 of that year concerning the murder.
Yesterday's proceedings were the latest in the murder trial of the fourth-grade teacher on the night of November 11, 2015.
It is alleged the teenager, who was 17 at the time of the incident, along with Mackey of Bonaby Alley and Sergeant of Kemp Road, attempted to rob McIntosh at gunpoint of her 2009 silver coloured Toyota Corolla worth $6,000.
It is alleged that during the failed carjacking, the victim was shot multiple times in her head and body. She later crashed into a wall at the intersection of Parkgate and Village Roads and died of her injuries at the scene.
All three have denied the allegations. The trial continues.