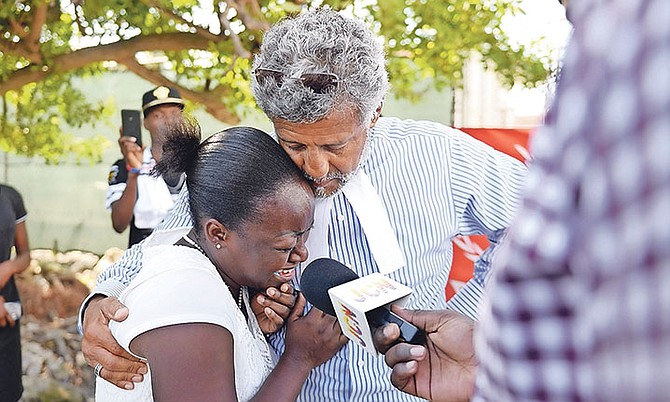 By SANCHESKA DORSETT
Tribune Staff Reporter
sdorsett@tribunemedia.net
THE family of a 35-year-old man who was picked up by immigration officials in September say they do not know if he is "alive or dead" or has been "illegally deported" after allegedly not being allowed to speak to him or visit him in nearly three weeks.
In an emotional interview, Clotilda Jean-Charles, 36, told The Tribune yesterday that she only wants to know what happened to her brother Jean Rony Jean-Charles but no one at the Detention Centre or the Department of Immigration will give her answers.
Ms Jean-Charles said her brother, who was born and raised in The Bahamas to Haitian parents, was taken into custody by immigration officers during a raid on September 15.
"I have been to the Detention Centre three times and they would not let me see him. They told me I had to go to Hawkins Hill. I went there and the line was so long but I stayed and I even went back and spoke with a man on the third floor who assured us that he would look into it. He gave us his number and we have been calling and calling and we don't know anything," Ms Jean-Charles said during an interview outside the Detention Centre.
"The last time anyone spoke with him was about three weeks ago. We don't know if he is alive or anything. No one is saying anything. They are not giving us access and they are not giving us any information.
"Our concern is this, they deported him to Haiti, number one he has no one to go to and number two, if that is the case we want proof that he was on a flight. We don't have a problem if they took him there, we want to know when and where if they did, so we can start the process of bringing him back to his birth land, here in the Bahamas. We are not able to confirm whether he is alive or whether he is dead. No one will speak to us and now we are led to believe the worse-case scenario because everyone is acting in a way that is improper. The point remains even if you go to jail for murder you still have a right to counsel and they won't let the lawyer see him. Our concern as a family is, we want to know if he is alive or if they sent him away so we can make the arrangements we have to. We don't know. If he was deported, he has our contacts, he would have called someone."
Attorney Fred Smith, QC, said he had "no idea" when he went to the Detention Centre on Monday to see his client that Mr Jean-Charles was not there. 
"I came to see him yesterday (Monday) and I had no idea that he may or may not have been here," Mr Smith said.
"Yesterday (Monday) I heard unofficially that he was deported but they need to produce to us a record of that. Where is Jean-Charles? This is not a prison, why can't I see my client? I wrote the Department of Immigration on Hawkins Hill asking to see him and I got no reply. There is no protocol. I think he has disappeared and that is why they don't want me to see him. As his family said, if he had been deported he would have called them over the last three weeks. People can't disappear in the Bahamas anymore and that is what has happened. We want to know where he is."
On Monday, Mr Smith was physically removed from the Detention Centre after he was blocked from seeing Mr Jean-Charles.
In an interview after the incident, Mr Smith said he went to the Detention Centre at 10am to see his client. On arrival, Mr Smith said he was given the run around after first being told to wait and then instructed to "make an appointment" at the Immigration Department on Hawkins Hill in order to see the detainee.
After exchanging words with immigration officers, Mr Smith was asked to leave the property, and after refusing, he was forcibly removed.
Videos of the altercation went viral on social media.
Yesterday, member of Parliament for Long Island Adrian Gibson said he stands with Mr Smith, because he too was turned away from the Detention Centre and not allowed to see his client last year.
"I was stopped from seeing my client at the Detention Centre last year around this same time," Mr Gibson, an attorney, said.
"So I stand with Mr Smith. No one should be denied legal counsel whether they are at the prison or the Detention Centre. Everyone, whether Bahamian or illegal, is entitled to have equal access to justice and legal counsel and to be denied that is a breach of the Constitution."
The Tribune attempted to contact Immigration Director William Pratt, but calls were not returned up to press time.
When contacted on Monday, Immigration Minister Brent Symonette admitted that Mr Jean-Charles was not at the Detention Centre and said an "investigation" is underway.
More like this story