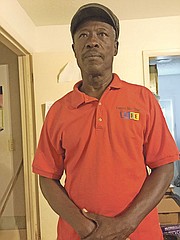 By DENISE MAYCOCK
Tribune Freeport Reporter
dmaycock@tribunemedia.net
A veteran police officer claims he was denied service and not allowed to access his pension at the Bank of The Bahamas (BOB) in Freeport for refusing to take off his cap when asked by a teller.
Retired Superintendent James Blatch said he was told at the bank on Monday if he wanted to be served, he would have to remove the hat from his head so that the camera could record him.


He said the incident at the Freeport branch has left him distressed and victimised, and without access to his savings account and pension money.
"It is wrong and unacceptable," said the senior citizen who has served over 40 years as a civil servant in law enforcement.
Mr Blatch said he went to deposit some money into his savings account and on entering the bank, was confronted by a security officer who advised him and other men they had to remove their caps.
"Some of the men were resisting and so I asked him why would I have to take my hat off, and he said if I don't take it off 'you can't be served,' so I tipped the cap and he let me walk in," he said.
After proceeding to a teller to make his deposit, he was again told that he needed to take off his cap.

"I asked what for? I have my Bahamian passport which is a legal document, and I gave it to her. She said, 'no, you have to take your cap off for the camera.' I said, 'no, that is illegal'."
When he refused to remove his cap, the teller refused to accept his deposit, he said.

"I told her that if she did not want to serve me, then I need to carry all my money. They called the supervisor who said that if I wanted to carry all my money, I would still have to take off my cap. I said I would not belittle myself," he said.
Mr Blatch said he asked to speak with the bank's manager but was told that he was having lunch. Before the incident on Monday, he said he had already spoken with the manager about the bank's requests of male clients to remove their caps or hats so their faces could be photographed.
"I told him it was wrong and that it was discrimination, and that it was illegal to record or take people's picture without their permission.
"The manager told me he was following orders and that it was for security purposes at the bank, but I explained to him that it couldn't be for security purposes when women are coming in with these big handbags, and there was no metal detector at the door to check their bags."
Mr Blatch said the manager had promised to look into it and make inquiries with the Nassau branch.
Having served 41 years on the police force, he stressed that if there was a real security issue, the bank should have installed cameras in the parking lot, inside the bank, and have a metal detector at the door.
Although male customers are mainly affected, Mr Blatch also learned that a woman customer whose head was bald as a result of undergoing chemotherapy treatments was also embarrassed when she too had to remove her hat while entering the bank.

He said that he never expected such treatment in a government-owned bank.

"I feel terrible; I have served this country for 41 years in the public service; no Bahamian should go through things like that," he stressed.
"I think that people are not paying attention to the violations of our constitutional rights in this country - it is serious. If I come to do my banking at BOB, you should serve me, but they told me I couldn't get my money unless I take off my cap, so I walked out.
"It was very distressing. I could not get my pension money. I could not sleep because of the behavior of those people, and poor people have to go through this at the bank," he said.

"Our liberties are being snuffed from us gradually, and no one is paying attention to it. And these people have licences to offer a service, and everybody is letting them do whatever they want to do, and you still have to pay for the service.
"Why is (this happening) only at BOB? I spoke to the Central Bank of The Bahamas about it, and they don't know about these things. We have to get the information out so that Bahamians will know what is happening and know their constitutional rights."