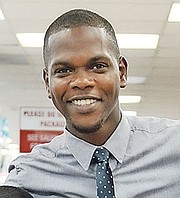 By RASHAD ROLLE
Tribune Staff Reporter
rrolle@tribunemedia.net
BAIN and Grants Town MP Travis Robinson yesterday called a widely circulated allegation that he was caught receiving kickbacks from contractors a "total fabrication".
The allegation was circulated on social media this week and involved accusations of extortion, claiming Mr Robinson, pictured, was called into a meeting with Deputy Prime Minister and Minister of Finance K Peter Turnquest over the weekend to discuss matters involving deposits to a bank account.
Mr Robinson and others in the Free National Movement (FNM) categorically denied yesterday any such meeting took place.
"The only comment I have to that is those comments are totally false," Mr Robinson, 22, said. "They're fabricated. They have no merit. I continue to work hard for the people inside my constituency. The government, the prime minister, stands behind the work I've done and we will see it through to completion."
Press Secretary Anthony Newbold said yesterday that no review will be undertaken to investigate the matter.
"This is the political arena that we're in," Mr Robinson said. "I've heard a number of assertions during the course of my political journey. I'm not exempted from any political attack or nature of whatever allegation is out there. I stand firm that those statements are false."
Asked if he ever extorted anyone, the first time MP said: "Absolutely not."
Asked if he had authority to issue contracts to anyone, he said: "I won't speak to whether or not I had authority to issue contracts in Bain Town but in reference to the specific issue, it's false and fabricated."
Asked about an alleged meeting with Mr Turnquest to address the claims, he said: "There was no meeting with the DPM on this issue. (The allegations) were a total shocker to me. I understand we're in a political climate and the operators would do whatever is necessary to attack myself, my character and whatever it might be but I stand firm on my statement that this was fabricated."
Mr Robinson said "should the need arise" he would take legal action against those perpetuating the falsehoods.
"I'm certainly open to it, but at this time my effort and energy will be continue to focus on Bain and Grants Town and I have no intention to run behind false accusations," he said.
He said he found out about the allegations yesterday morning.
"Someone sent me a WhatsApp on it. I looked it and I simply laughed… I knew it was totally fabricated. I'm surprised to see the extent at which someone would go to tarnish or jeopardise someone."
He noted that he spends his entire MP salary of $28,000 in his constituency.
"My MP salary in fact, I spend all of it inside the Bain and Grants Town constituency," he said. "Many people would note the struggles Bain and Grants Town continues to have and I have committed myself personally to ensuring that my MP salary goes 100 per cent to my constituency."