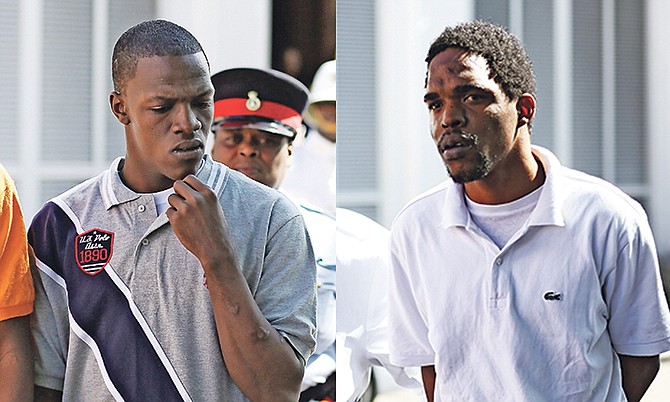 By NICO SCAVELLA
Tribune Staff Reporter
nscavella@tribunemedia.net
THE man accused of lying in the road to create an obstacle the night in November 2015 former Queen's College elementary teacher Joyelle McIntosh was killed, yesterday claimed he was "stomped" in the scrotum repeatedly by police to give a false confession.
Johnny Mackey, taking the witness stand before Justice Bernard Turner, said he was repeatedly kicked in his genitals by officers while at the Central Detective Unit (CDU) in November 2015, so much so they became "swollen".
Mackey also said he was "fish-bagged" repeatedly, meaning a plastic bag was placed on his head by officers. He claimed when he told them to stop or they would kill him, officers told him they could simply put a rope around his neck and place him back in the cell because he was already suffocating.
He said he was forced to give a false confession, despite him denying knowledge of the crime when initially questioned by officers.
"I was stomped in the head, I was fish-bagged, I was stomped in the balls, repeatedly," he said from the witness box.
The court later heard how his co-accused Armando Sergeant was allegedly given a proposal by police so that he would identify one of his co-accused, a teenager, as the shooter in the crime.
When he took the witness stand, Sergeant said the investigating officer in the matter made a proposal for him to say the teen shot the deceased, which he said he denied because he said he knew nothing about the matter.
Sergeant said after doing so, he was beaten and fish-bagged by officers to coerce him to comply. He said the investigating officer made him sign the documents pertaining to the initial interview, the contents of which were not true.
"He beat me to say them," he said of the investigating officer. "I tell him I ain't know nothing about this."
Nonetheless, Sergeant later said when he was arraigned for McIntosh's murder on November 23, 2015, he was charged with three murders. However, Sergeant said the other two murder charges were later dropped.
According to Mackey, on November 13, 2015, he was at home sleeping when officers kicked down his door and came to the room where he was sleeping. One officer, he said, threw him to the ground and stomped on his head.
Mackey said the left side of his head became swollen as a result, but did not bleed.
Mackey said he was subsequently taken to CDU and questioned about his whereabouts. He said he told officers he was at a bar drinking and smoking, then left to go to his aunt's house for something to eat.
He said they questioned him about the murder, which he denied any knowledge of, and subsequently signed a statement.
Mackey said he was released from police custody on November 18, 2015 at 3am. He said he went home and took a bath at 4am. But by the time he came back outside, he said a number of police cars were there waiting for him.
He was arrested that night and taken to the Wulff Road Police Station and taken to CDU the next day. He was again questioned on the matter while there, but again denied any knowledge of the incident.
However, Mackey said officers told him that wasn't what they wanted to hear, and that they would tell him what they wanted him to say. He said he was subsequently fish-bagged and kicked repeatedly in his genital area.
Mackey further denied being the individual who was lying in the road on November 11, 2015, forcing McIntosh to swerve to avoid hitting him. He said: "I love my life too much to lay down in the road."
Mackey also denied knowing his co-accused prior to the incident in question, stating while he is familiar with people from the Kemp Road area, he only really knows those who are in his "set" or age group.
"I 25," Mackey said, referring to his age at the time of the incident. "They little boys to me. What I doing with them?"
When pressed by Crown prosecutor Viola Barnett on the validity of his claims, particularly the allegation he was the one laying in the road, Mackey countered by saying: "You could check my record ma'am. The only thing I get lock up for is drugs. I don't do these types of things."
Prior to Sergeant taking the witness stand, his attorney David Cash, in an opening address to the jury, said Sergeant was being questioned for other matters while being questioned in connection to this one, and was promised the others would be withdrawn if he accepted the proposal.
Mr Cash further submitted that McIntosh's murder was and still is a "high profile case," and after a week had passed following the murder and the investigating officer not locating any witnesses, the officer opted to make the proposal to Sergeant to identify the teen as the shooter.
When he took the witness stand, Sergeant said he was at home with his mother and his girlfriend on the night in question, and was there all day straight into the night.
He also denied being a part of a plan to shoot or rob anybody, stating that he had no need to steal McIntosh's car because he has a car of his own.
Sergeant said he was arrested by officers while leaving the Harbour Bay Shopping Plaza on November 17, a Wednesday. He said he saw a number of police cars drive past him, from one of which an officer in a ski mask jumped out and said his boss BK Bonaby wanted to see him.
Sergeant said he was then arrested and placed in the back of a van that featured a cage. Sergeant told the court that no one beat him during his initial arrest.
However, Sergeant said he was taken to CDU the same day of his arrest, where he was taken into a certain room and beaten by officers. He said he wasn't handcuffed at first, and was beaten with a stick on both of his shoulders.
He said he was then handcuffed with his hands behind his back and placed on his stomach, and subsequently fish-bagged. He said he managed to bite through the first plastic bag in a desperate attempt to get air, but they doubled it with another bag.
Sergeant said he felt like he "was gone dead" as a result of the limited air supply.
He said while this was going on, he was "wiggling" in an attempt to resist the bagging, which resulted in him turning on to his right side. He said police then dragged him across the rug, resulting in him receiving an "abrasion" above his right elbow.
Yesterday's proceedings are the latest in the murder trial of the fourth-grade teacher.
It is alleged the teenager, who was 17 at the time of the incident, along with Mackey of Bonaby Alley and Sergeant of Kemp Road, attempted to rob McIntosh at gunpoint of her 2009 silver coloured Toyota Corolla worth $6,000.
It is alleged that during the failed carjacking, the victim was shot multiple times in her head and body. She later crashed into a wall at the intersection of Parkgate and Village Roads.
All three have denied the allegations.
Viola Barnett and Akeyra Saunders represent the Crown. Dorsey McPhee and Sonia Timothy are the other two defence attorneys on record, representing Mackey and the teenager, respectively.
 The trial continues.