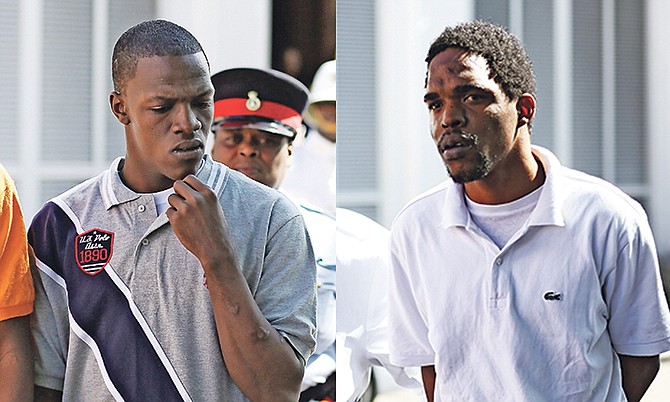 By NICO SCAVELLA
Tribune Staff Reporter
nscavella@tribunemedia.net
THE attorney for one of three men accused of the 2015 murder of former Queen's College elementary teacher Joyelle McIntosh yesterday likened the Crown's case against his client to a "movie" in which he was given a "script" by police to say untrue things about his involvement in the crime.
Dorsey McPhee, in delivering his closing address to jurors on behalf of Johnny Mackey of Bonaby Alley, said his client served as the "actor" in this movie produced by the Crown, which was in turn directed by the investigating officer in the matter, Sergeant Jamal Evans.
Mr McPhee further petitioned members of the jury to "humanise" his client as they deliberate on a verdict, as he said his client has a "soul given by God" and a "right to be free".
He further submitted to jurors that justice means to "free the innocent" and "convict the guilty".
Meanwhile Sonia Timothy, attorney for the teenager accused of fatally shooting McIntosh, petitioned jurors during her closing address to determine the "truth" in the matter, and to question the validity of the confession her client made to police about him shooting the deceased.
Charging the teenager's confession was merely "words spoken to stop the brutality," Ms Timothy asked jurors to consider whether her client's confession was a "true reflection" of what happened on the night of November 11, 2015 when McIntosh was killed.
And besides her client's confession to police, which he previously claimed he was forced to make, Ms Timothy said there is no evidence before the jury connecting the teenager to the crime. 
The matter was adjourned to today for the continuation of the closing addresses by the one remaining defence counsel, David Cash on behalf of Armando Sergeant, as well as that of the Crown, represented by Viola Barnett and Akeyra Saunders.
It is alleged the teenager, who was charged as a juvenile along with Mackey and Sergeant of Kemp Road, attempted to rob McIntosh at gunpoint of her 2009 silver coloured Toyota Corolla worth $6,000.
During the failed carjacking, the victim was shot multiple times in her head and body. She later crashed into a wall at the intersection of Parkgate and Village Roads.
All three have denied the allegations, and while taking the witness stand previously, each of the accused said they were beaten by police to give false confessions concerning their alleged involvement in the crime.