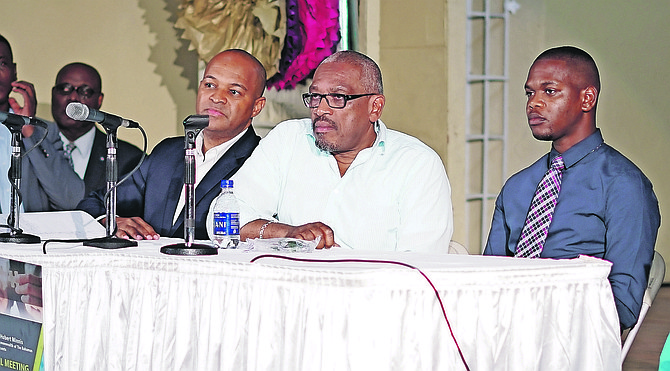 By RASHAD ROLLE
Tribune Staff Reporter
rrolle@tribunemedia.net
PRIME Minister Dr Hubert Minnis and his team unveiled a sweeping programme to revitalise Over-the-Hill communities last night, a plan that ranged from eliminating the use of outside toilets by 2025 to offering tax concessions to businesses and residents by the beginning of the next fiscal year.
Coming after a difficult debate over the Commercial Enterprises Bill, the event saw Dr Minnis get back to his roots and make a clear appeal to people in poverty stricken communities whom he has spent the last several years vowing to prioritise.
In front of a packed crowd at the Grant's Town Wesley Methodist Church Hall, Dr Minnis and his team promised to make the constituencies free Wifi areas, to create a food market for native products in the area, to construct a multi-purpose community centre that offers care for children, the elderly and opportunities for counseling to people of all ages, to create an auto-mechanic cluster that eliminates roadside mechanics in residential areas and to build a sports complex with volleyball, tennis, basketball courts and a swimming pool, among other things.
After all this, Dr Minnis teased even bigger plans that he said will be revealed later.
"…Tonight I only give you the cake," he said. "Tomorrow I give you the icing. Be assured the icing is better than the cake."
"We want you to have a better start," he said, "so the higher you start it's easier for you to now be a part of these businesses that do not exist now. It's all for preparing you for tomorrow. We don't want you to have only remedial jobs."
Key details of the programme, including cost and a timeline, were not shared and remain subject to assessments, but Dr Nicola Virgil-Rolle, head of the Economic Planning Unit in the Office of the Prime Minister, noted that $5m will be reserved in each budget to help the administration accomplish its goals.
Although the precise delineation of the inner-city tax zone has yet to be defined, the zone is expected to involve at least parts of Bain and Grants Town, Centreville, St Barnabas and Englerston. The tax-free zone is expected to be rolled out in a Nassau Over the Hill Rejuventation Bill at the start of the next fiscal year, Dr Virgill-Rolle said. That bill will lay out concessions, identify the minister responsible for the policy, establish a foundation to raise funds for projects in the communities and explain the penalties for breaches.
"We're going to ensure there is a corporate social responsibility so what we will say is in order to benefit from many of these provisions," Dr Virgill-Rolle said. "We want you to invest in something. We will step up the value of credits you get towards your taxes based on what you do. If you are going to invest in putting in some solar panels, invest in an education programme, invest in adopting, invest in additional hiring, those are things are considered as extra credit as well so we are going to structure a programme around that basis of give and take so it has to be a two way movement there in terms of benefit."
Dr Virgill-Rolle said her team anticipates complaints of bias but said the targeted communities, based on poverty rates, comprise the most impoverished areas on the island.
She said: "The initial scope was to encompass Nassau Street at the western side looking on to Poinciana and Wulff Road on the southern side, everything west of Collins Avenue, so it includes some areas of Centreville, Bain & Grants Town and then upwards to Meeting Street, so not including downtown side of the hill. That would be the initial planning area. We are hearing from the consultation additional areas as well may be included. We are having those discussions… the plan is to move beyond these borders as well so in another stage we can move south of Wulff Road towards Robinson Road so we could include more areas as we fine-tune this project."
Promises that businesses won't pay business licence fees or real property taxes were met with cheers and applause from the audience, as was the promise that residents will not have to pay taxes on building supplies.
Following the event, the reaction from attendees who spoke to The Tribune was mixed.
"I think the whole initiative is going to be conducive for the development of persons living in the environment," Garvin Dawkins said. "In terms of us now as citizens, now we have to elevate our mind and thoughts to make sure the initiative succeeds. I think it's long overview."
Brendon Bowe, 42, from St Barnabas, however, lamented that officials did not provide more immediate fixes for the problems residents in the communities face.
"This a long-term process," he said. "People looking for help right now and I want to hear more about short-term processes."
He said he'd give a "C+" for the government's plan.
During his speech, Dr Minnis revealed he will participate in a walkabout in the Bain and Grants Town community in an effort to consult residents on the initiative.