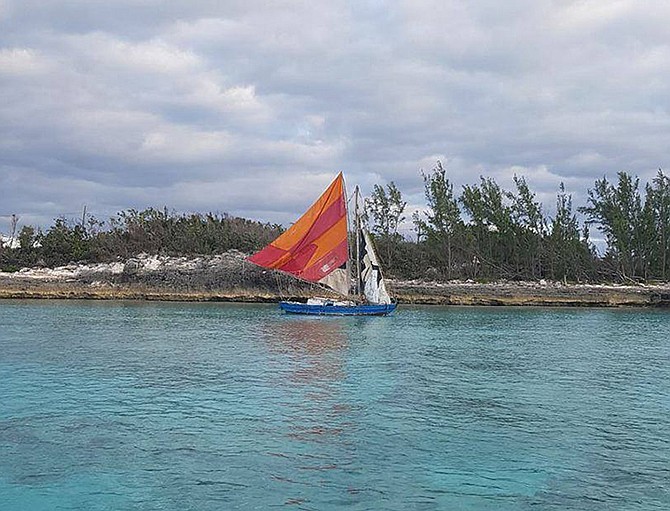 By Sancheska Dorsett
IMMIGRATION officials are bracing themselves for an "influx of illegals," according to Kirklyn Neely, head of the Immigration Department's Enforcement Unit, who said the holiday season "usually sees about three to four" Haitian sloops illegally land throughout the islands.
His comments came moments after a boat "loaded" with Haitian migrants landed near Clifton Pier yesterday morning, about three miles from Coral Harbour. This is the second time in about a month an illegal sloop has landed near the Royal Bahamas Defence Force's (RBDF) Coral Harbour Base.
The illegal landing prompted Progressive Liberal Party (PLP) Leader Philip Davis to call for "heads to roll," saying an explanation is needed from authorities. 
Immigration officers and other authorities spent yesterday combing the area for the migrants. Up to press time the RBDF said 57 people - 43 men, 11 women and three children - were taken into custody and transported to the Carmichael Road Detention Centre.
"Around 7am, a concerned citizen called me personally and said there was a boat loaded down with Haitians about to land near Clifton Pier," Mr Neely said.
"I immediately dispatched a team and the Royal Bahamas Police Force (RBPF) and the Royal Bahamas Defence Force also assisted in the search for the illegals. Several were caught within the first hour and they were taken to the Detention Centre where a medical team will meet them to ensure they are okay."
"We are trying to find out where in Haiti these persons came from and how many persons were on the boat. This, however, is a trend every year around Christmas and New Year's. So, we expect about three to four boats to come in, that's the trend they usually come in fours. This boat landed on a rock in front of Commonwealth Brewery next to the BEC plant and can carry between 80 to 100 persons. We caught about 10 in the bushes but they got a head start on us. The search is continuous."
He said some of the migrants were familiar faces to immigration officers, meaning they had been repatriated to Haiti recently only to return to the country illegally. 
In the wake of the latest incident, Mr Davis called for an explanation from government officials.
"Once again we are shocked that illegal migrants in a slow sail boat were able to make it just this morning (Monday) to shore within a few miles of the Royal Bahamas Defence Force Base," the PLP leader said in a statement. "This calls for an immediate explanation from the Minister of National Security Marvin Dames who cannot yet again plead that this has happened because the country has a vast land and sea border. That was his excuse the last time it happened.
"When this happened before, we pointed out that the shocking thing was that it happened right at the doorstep of the defence force base.
"It is incredible therefore that it has happened again and it appears that nothing operationally has changed. Have the minister and his officials not drawn any lesson with regard to this?
"We demand a full explanation of the facts. Heads it would seem need to roll," Mr Davis added.
In a statement issued last night, the RBDF said it has apprehended approximately 1,100 migrants for the year, adding half of these apprehensions were made jointly with immigration and police authorities, as well as the United States Coast Guard.
"The force is also on full alert to prevent narcotics trafficking in the country as well as deterring and arresting poachers and have rendered substantial relief assistance after disasters throughout the Bahamas," the statement said. 
In November, a large empty sloop was discovered on the shoreline of Adelaide Beach. Despite extensive searches, immigration officials said no one from that boat was captured.
At the time, Immigration Director William Pratt said he "had no idea" how such a large sloop could land so close to the RBDF's base and go undetected, but suggested the RBDF should perhaps "improve their surveillance."
Authorities believe the immigrants who landed at the time had help from people already on New Providence and warned anyone who was found to be hiding them would be jailed, fined or both.
Last month, Mr Neely estimated between 150 to 250 undocumented migrants were on board the sloop. 
The hunt for the migrants began on November 12 when the RBDF said it was investigating reports of a wooden Haitian sloop landing in the southwest area of New Providence.
Last month, Mr Dames said the Bahamas is an archipelago of over 700 islands and cays, adding it is not possible to identify every vessel that comes through its borders.
"I can tell you from personal experience I've had many trips when I was in the police force running operations, you can go out for hours and not see anything, land, boats, or anything else. For someone to think that every vessel that comes through here should be identified, that's not humanly possible," the minister of national security said at the time.
More like this story