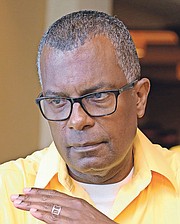 By RICARDO WELLS
Tribune Staff Reporter
rwells@tribunemedia.net
PROGRESSIVE Liberal Party (PLP) Chairman Fred Mitchell maintains he is in his right to critique the actions of Transport Minister Frankie Campbell, contending public officials are "subject to fair comment".
Mr Mitchell, in a statement released late Wednesday, warned politicians "uninitiated in the business of ministerial office and political life" that despite their personal feelings and fears, criticism is and has always been "an unavoidable "occupational hazard".
Earlier this week Mr Mitchell suggested Mr Campbell's position within the Minnis administration caused many to view the government as soft on immigration, due to the fact Mr Campbell's mother came to the country from Haiti as an illegal immigrant.
Those comments came in the same week a Haitian sloop landed in western New Providence with dozens of illegal immigrants on board.
Mr Campbell and Attorney General Carl Bethel criticised Mr Mitchell for the remarks.
Mr Campbell said illegal immigrants have come to The Bahamas' shores for decades and his position in the Cabinet has done nothing to with it.
Firing back Wednesday, the former Fox Hill MP said the principles have already been established, telling those criticising him that once elected, "Your life, both personal and public, becomes the cannon fodder for newspapers and other assorted rascals who wish to create mischief."
Mr Mitchell continued: "You can protect your own privacy by refraining from volunteering personal information which is otherwise not of interest to the public if you do not wish that information to become the subject of public scrutiny and comment."
Clarifying his initial comments, Mr Mitchell claimed he was only responding to questions by the press on why the government's policy on immigration is perceived the way it is.
"My answer was based on information in the public domain volunteered by the minister," Mr Mitchell said. "The circumstances of how he came to be Bahamian and the fact that he took the prime minister to a church to talk about immigration and acted as the translator for the prime minister."
He added: "I deduced from those public facts - and so did most other Bahamians - that the FNM was perceived to be softer on Immigration and they went to spread that message to the immigrant community; that implicit in their personal outreach and his personal example was that the FNM would be soft on immigration and people in that community would perceive him to be a liaison to the government on their behalf."
Mr Mitchell concluded that from a legal standpoint, his words would be considered "a fair comment" and that all public officials are subject to it.
"The PLPs policies on immigration were fair and strict and designed to protect the country. We stand by that," Mr Mitchell added.
"Do not personalise your response to me but rather abstract this lesson from what I said, one which all of your like-minded hypersensitive young politicians in the FNM would do well to follow: if you can't stand the heat, get out of the kitchen."